Our first full day in Chile held a variety of delights: frozen geysers, a cactus forest, an epic sand dune, a salt valley, and otherworldly landscapes imitating the surfaces of the Moon and Mars. We also had our first real taste of Chilean food, comprising a sweetcorn pie and more barbequed meat than we could manage.
Cosmo Andino picked us up in a minibus at 4.30am to drive us and several others to the Tatio Geysers. When we arrived they laid out a table of breakfast – comprising scrambled eggs, toast, ham, cheese, biscuits, and tea and coffee – and we crowded round to eat it outside as the sun began to rise.
Tatio Geysers and "hot springs"
Next, our guide Maurizio gave us a guided walk around the geysers. He told us about the minerals at work, about the pressure of the boiling water beneath us, and how bacteria created the many crazy colours.
I was amazed at how active the geysers were – some were spilling, bubbling and steaming constantly, while others burst forth with towering jets every few minutes, spraying everyone in close proximity. Warm steam billowed everywhere, surrounding and obscuring us. And as the sun rose, its light broke over the mountains and illuminated the steam in the most incredible way.
Following the bliss of the hot springs in Bolivia, Steve and I decided to brave the thermal pool here too. Unfortunately, the water was warm at best, mostly quite cold, and we were out of the water again as quickly as we'd got in. We took in the geysers again, now in their full sunlit glory, before getting back in the minibus.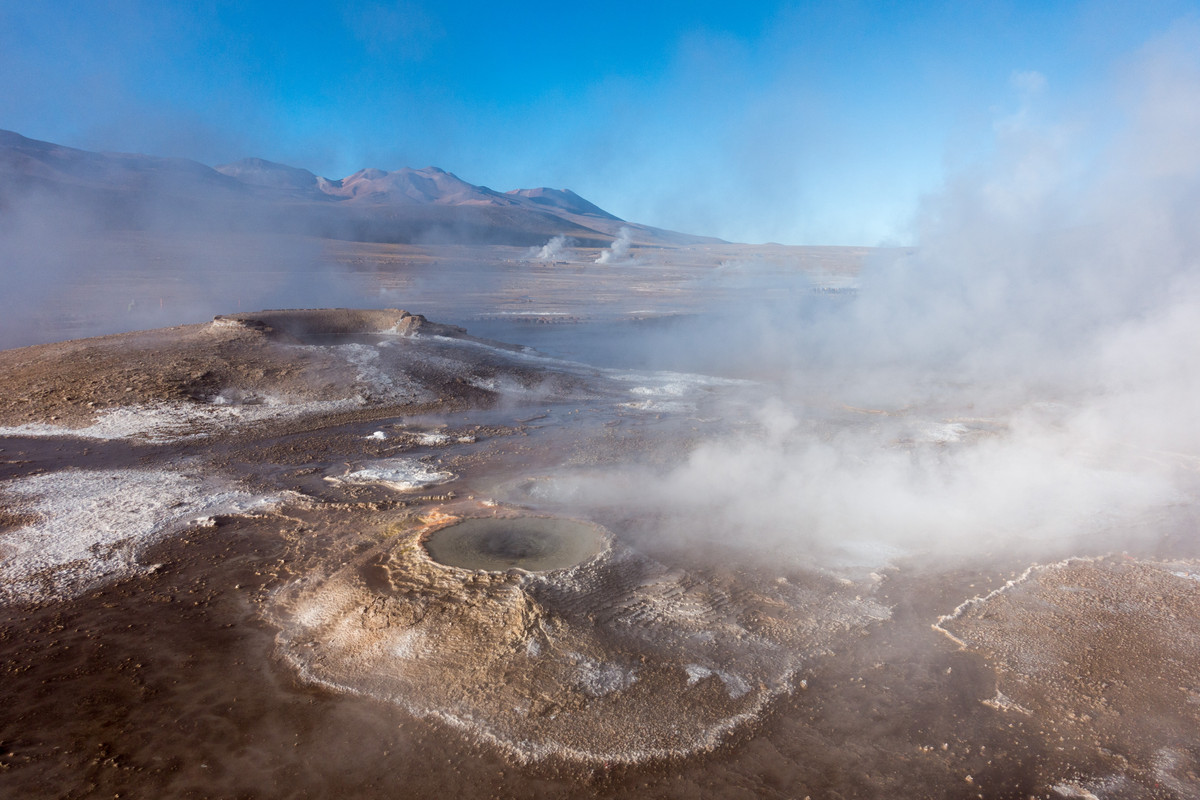 Machuca village
The scenery on the way back to San Pedro was starkly beautiful. We admired dramatic snow-topped mountains and shining lakes, and played at spotting vicunas grazing on desert grass alongside the road.
We stopped to have a brief look around the village of Machuca, which was little more than three rows of stone and mud-built buildings with iron or thatched-straw roofs. We climbed the small hill to see the rustic white-washed church, and stopped to take in the village below.
Cactus forest
Our next stop was a hill covered in cacti – a cactus forest. We walked through the forest beside a picturesque stream, while our guide Maurizio told us about the flora and fauna. We couldn't have asked for a better guide – as well as being full of interesting facts, he frequently offered to take photos for everyone.
Lunch at Delicias de Carmen
We were dropped back at our hotel at 12.30, and in between this and the next tour we had lunch at traditional Chilean restaurant Delicias de Carmen. I had the pastel de chocla, which was a dish of minced meat in gravy baked under a lid of mushed-up sweetcorn – a bit like a slightly sweet cottage pie! Steve had a huge breadcrumbed steak atop a pile of roast potatoes. We went to the Cosmo Andino office to start our second tour of the day, to the Moon Valley (Valle de la Luna).
Moon Valley
First, we were driven to a couple of viewpoints to marvel at the otherworldly valley from above. We walked around a high mountain ridge until we reached the top of a massive sand dune, which our guide told us to run down. This was really fun, and possibly something I'll never have opportunity to do again!
Salt formations
We met the minibus at the bottom of the dune and were driven to a valley formed from salt. Our guide took us on a fascinating walk between the high ridges, stopping every now and then to point out the strange patterns and formations in the salt walls, and to explain how they formed.
Sunset on Mars
Finally we drove to our final stop of the day, where we climbed to the top of a ridge to watch sunset over Mars Valley (Valle de Marte). It was a popular spot, but we easily found an edge that fit our tour group of six. The sunset was beautiful, but the best spectacle came after the sun had gone, leaving behind a sky dip- dyed with lilac and pink.








Dinner at Sol Inti
Our tour guides had strictly instructed us to avoid red meat and alcohol that night, as they'd make altitude sickness worse tomorrow. So what did we do for dinner? We had a feast of barbecued meats, beer and wine that a Tudor king would be proud of.
Our enabler was traditional Chilean resturant Sol Inti, where we ordered a BBQ for two that included chicken, sausages, steak… just about every form of meat you could imagine, piled on top of huge potatoes. It was even bigger than we'd imagined!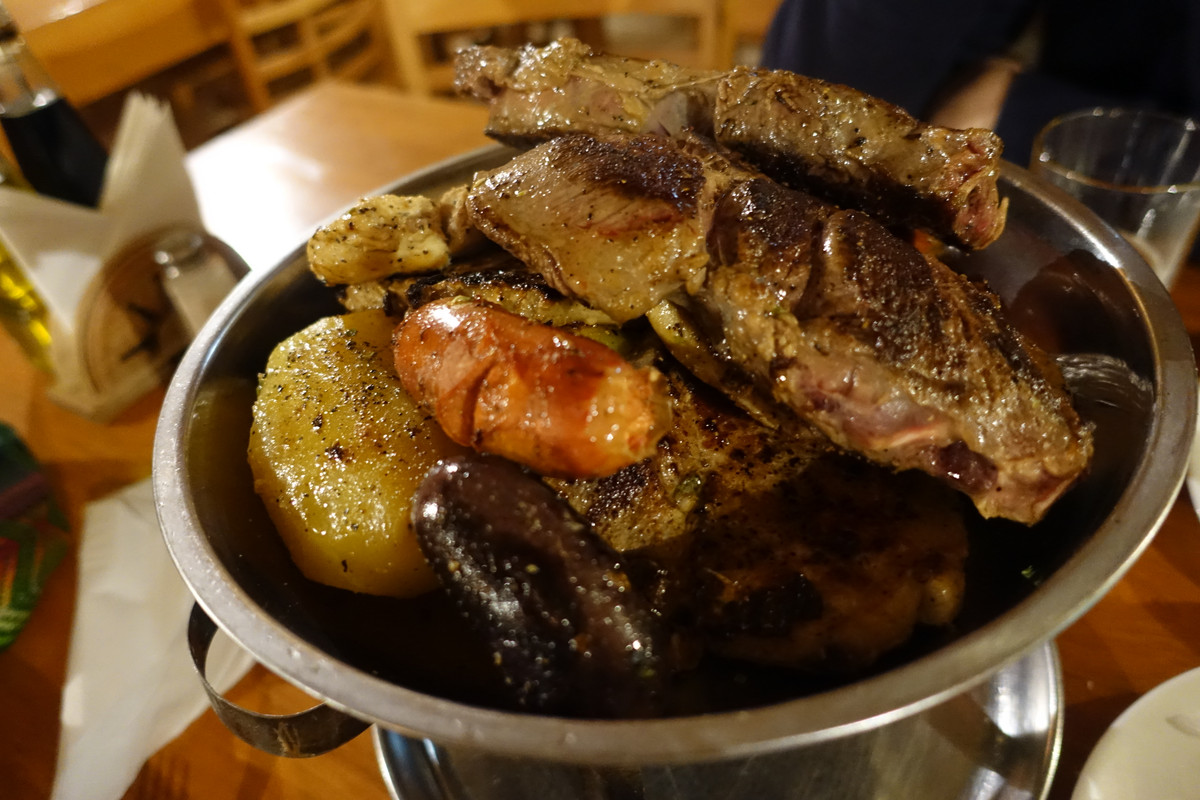 When I was asked what size of wine I'd like, I replied "medio" thinking that meant a medium glass… but no, it was a medium-sized bottle. Meanwhile, Steve had a large bottle of beer. We didn't even come close to clearing the platter and took the remaining meat back to our hotel – causing us to be chased out of town by a pack of dogs, who had clearly caught scent of the meat in my bag!
Tomorrow would be our last day in Chile, touring the altiplanic lakes.
To be notified when the next post goes live, subscribe to this blog or follow Roam with Juliet on Facebook.
All text and photos (c) Juliet Langton, 2018. All rights reserved.