Steve and I went to Recife exclusively to visit a friend from university, who in the past had taunted us with videos of him enjoying Recife's sun, sea and sand while we shivered in the UK. However, we quickly learnt that Recife has a lot of history, culture, food and beauty to offer in its own right.
Parraxaxá
We met our friend Filipe at the airport, having just flown in from Iguazu Falls. Filipe ensured our visit got off to a great start by taking us to a pay-by-weight buffet restaurant called Parraxaxá for lunch. As you enter, you're given a ticket and a plate to fill up with as many different Brazilian dishes as your heart desires. Before you return to your table, your plate is weighed and its weight recorded on your ticket.
You can go back and fill up as many plates as you like, then when you're finished you take your ticket to the payment counter and pay for the total weight of food you took. It was fun being able to try so many different savoury and sweet foods, and really cheap too – my final bill came to just £10.
A night at the fair
That night, on Filipe's recommendation, we went to the Sao Jao fair and dance competition that was taking place in Sitio da Trinidade.
It was raining heavily, and we were a little apprehensive about going to such a 'local' event where we wouldn't understand the language or know what was going on. We walked into the dark park, aglow with coloured lights and abuzz with incomprehensible chatter, with trepidation.
There were rows upon rows of food and souvenir stalls, but we passed these to join the queue into the large tent where the dance competition was taking place. Eventually we were let inside and stayed for a couple of performances. These were epic in both concept and length, seemingly playing out full, deeply imaginative stories through a dance performance lasting around 20 minutes. The first appeared to be about plants (portrayed by dancers) growing from dry ground (portrayed by dancers), throughout the changing  seasons (also portrayed by dancers). We didn't really know what was going on, but were amazed at the energy and speed of the dancing and the endurance of the dancers.
After leaving the tent I bought coxinhas and a fresh mango juice from a stall, and we watched some of another dance on the large screen before calling it a night.
The confusing restaurant

The following night, after a day trip to Porto de Galinhas, Steve and I went to a restaurant called Galetus for dinner. Unfortunately, we couldn't figure out how it worked. When we were seated we were handed a la carte menus (like a 'standard' restaurant), yet there was an international buffet of pastas, stir-fries and even sushi at the end of the room (like a world buffet restaurant) , and waiters kept coming round our table to offer meat on skewers and slices of pizza (like a churrascaria restaurant, but with pizza as well!?).
We were so confused that we had to phone Filipe to ask him to come and help us! Luckily he lives just around the corner, so was able to come and explain how the restaurant worked, and to tell one of the waiters to look after us. Of course, he thought it was hilarious!
Recife's historic centre
On our final morning in Recife, Filipe gave us a tour of his flat and we handed over the digestive biscuits we'd brought all the way from the UK for him, on his special request! We deposited our luggage there then left in his car to go on a tour of the city.
We started in Recife's historic centre, where Filipe gave us an educational walking tour. He showed us 'Point Zero', where the city is said to have started, as well as the old printing press where he used to work, and the port. It was raining very heavily, but we made the best of it!
Olinda
Afterwards we drove to Olinda, a pretty suburb of Recife which is characterised by low, colourful buildings and cobbled streets. The rain was on and off by now, but the view over the lush treetops and terracotta rooftops was beautiful regardless. We saw inside three churches, one containing nuns cooling themselves with an electric fan, and one containing singing monks.
Museum of giant puppets
Best of all was our visit to Olinda's museum of giant puppets, which are used in festival parades. They're a familiar site to the residents of Recife, but to us they were bizarre! Even stranger than the puppets themselves was Filipe's explanation of the 'Midnight Man', who became a kind of religious figure as the first ever giant puppet. I don't think he was playing a trick on us but it's hard to be sure… The museum also had a dress-up box of colourful festival props, and we couldn't resist trying them on!
Estrela do Mar
We stopped for lunch at a restaurant on the seafront called Estrela do Mar, and this time (thankfully) Filipe ordered for all of us: digestif soups of beans, shrimp and fish, followed by Chateaubriand with wood sauce, peppers, and onions. I thought the wood sauce tasted very similar to Chinese black bean sauce. The meat was meltingly soft and deeply delicious.
We had a dessert each, with Filipe persuading Steve to try the grilled cheese and banana combination! This odd concoction was surprisingly nice, but not as good as my petit gateau: a hot chocolate bombe with ice cream.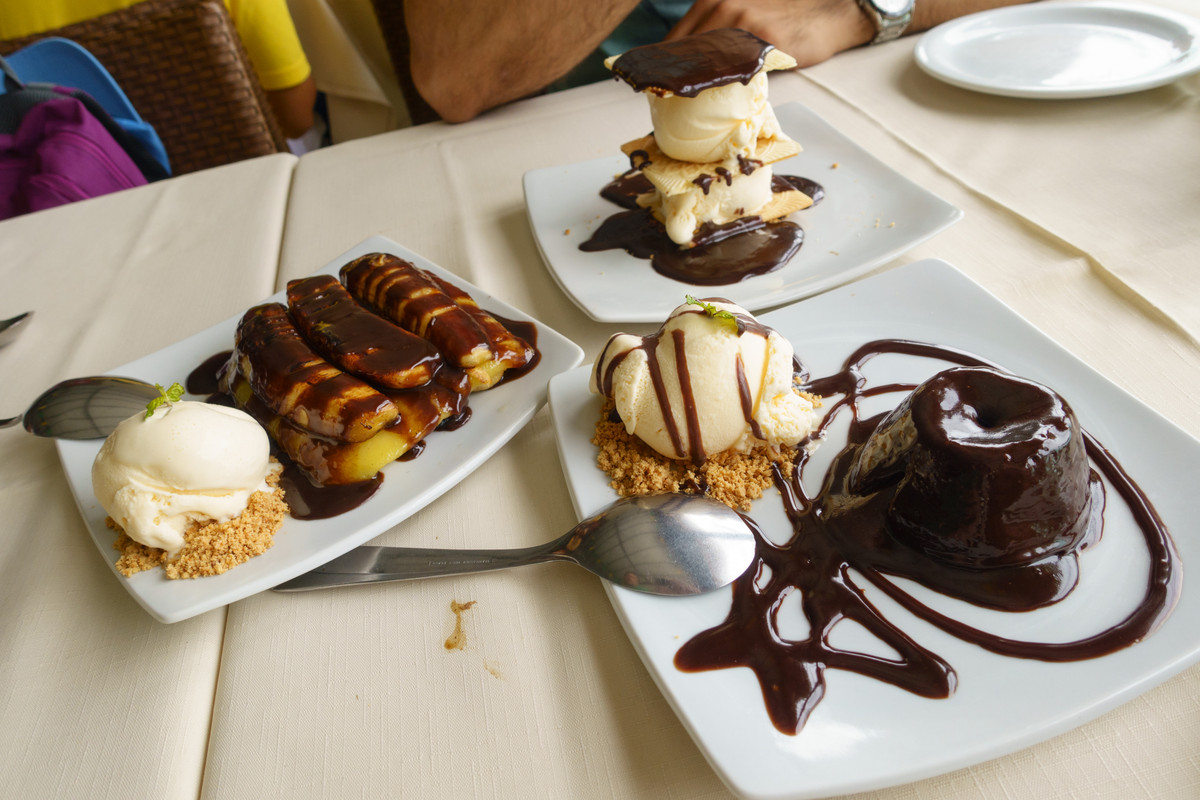 Stuffed full, we drove back to Filipe's flat to retrieve our luggage but not before stopping off at a local bakery to buy Bolo de Rolo – Recife's regional cake (with the best name ever) – as a gift to take back home. He drove us to the airport and that was it: the end of our adventure around South America. It was one of the best trips we've ever been on, going to some of the world's most amazing places. You can view all my posts from the trip in the South America posts index.
All text and photos (c) Juliet Langton, 2019. All rights reserved.