Jordan is the first country we ever visited in the Middle East – and one sitting between Israel, Syria, Iraq and Saudi Arabia no less. It would be fair to say that my very white, blonde, female, atheist self was a little nervous about what kind of welcome we'd get. However, after just a few hours in the country, I realised my trepidation was unfounded. I have never heard the word "Welcome" so frequently in all my life as in Jordan, where locals consistently asked where we were from and appeared delighted to hear how far we'd traveled to visit them.
We started our week-long trip in the southern city of Aqaba, on the coast of the Red Sea. We stayed at Amir Palace Hotel, where the owner greeted us with a "Romeo and Juliet" joke that immediately put me at ease (it showed that people here have the same sense of humour as those back home)! He gave us an annotated map and recommended two restaurants: Ali Baba for dinner, and Al-Muhandes for breakfast. Being too hungry to explore for ourselves, we followed his advice.
Unfortunately, we weren't impressed by Ali Baba. The service and food were fine, but it seemed overpriced and touristy – indicated by the fact our mixed grill and chicken dishes came with chips. Still, it's worth mentioning this meal for the side dishes we enjoyed: kibbeh (tasty breadcrumbed and deep-fried boulders of lamb mince and spices) and baba ghanoush (a delicious mush of chopped aubergine and other vegetables).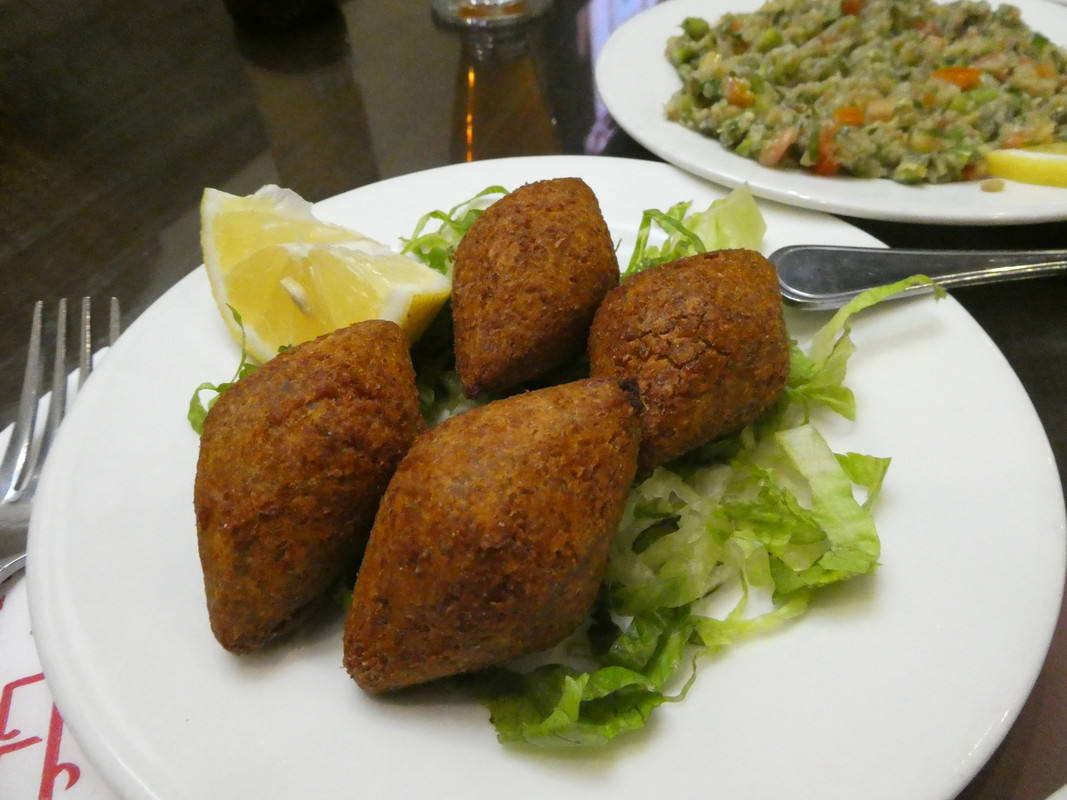 Breakfast with the locals
The following morning we walked to Al-Muhandes, just around the corner from our hotel. Fortunately, unlike Ali Baba, Al-Muhandes was a perfect introduction to how Jordanians really eat. We'd been peering into the pale-tiled, cafeteria-like restaurant for just a few seconds when we were welcomed inside and sat at the end of a long table, already filled with locals eating their breakfast. The simple laminated menu offered multiple varieties of hummus and a bunch of things we didn't recognise.
We ordered the hummus with meat (a dry, unidentifiable minced meat), foul (despite the name, a delicious hummus-like dip made from beans and olive oil), hummus fatah (a lighter hummus mixed with bread and olive oil with a lighter, whipped texture), fried egg (served large and flat like an omelette), falafel, pitta bread, and tea. The small flattened balls of falafel were the best I'd ever tasted: a light-as-air green filling encased in crisp, dry, golden breadcrumbs. I ordered four, but I could have eaten 24.
The tea was a surprise as well: served black, flavoured with fresh sage leaves and very sweet. I'm normally a standard "English Breakfast-milk-no sugar" devotee, but this sugary potion had me hooked instantly. The whole bill for the two of us came to less than 5D (roughly equivalent to £5), making it not only quick and delicious, but a bargain too. We made sure to come back for breakfast the following day as well.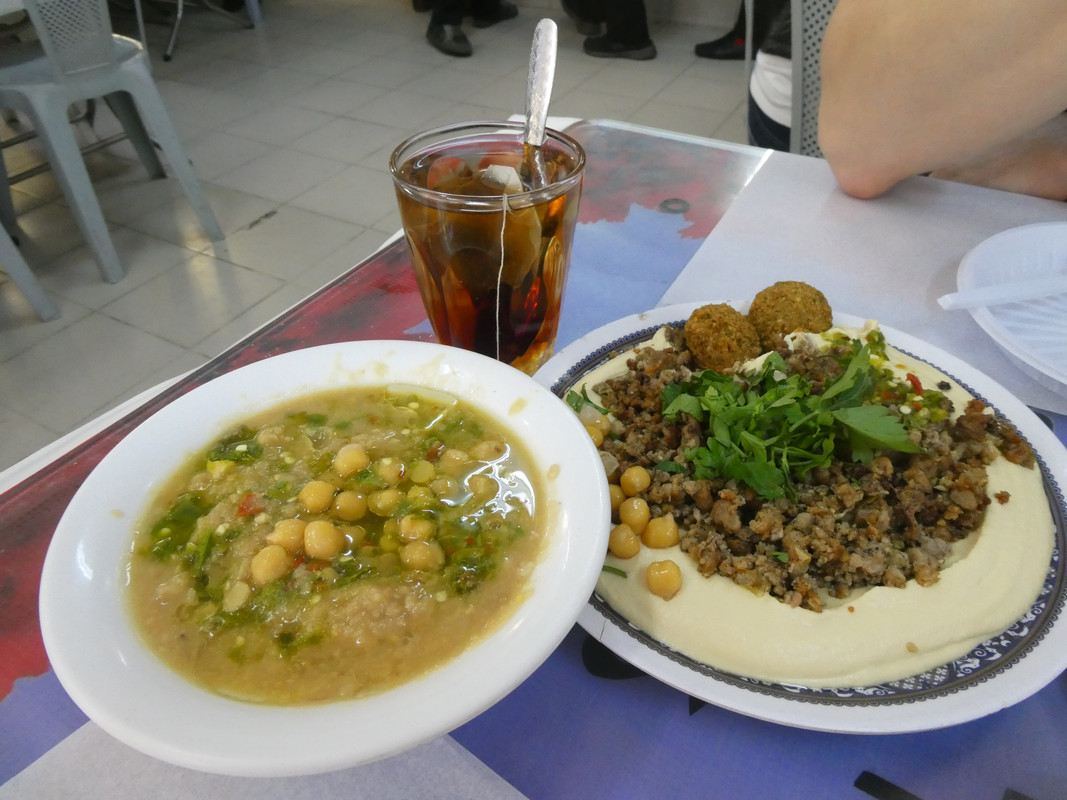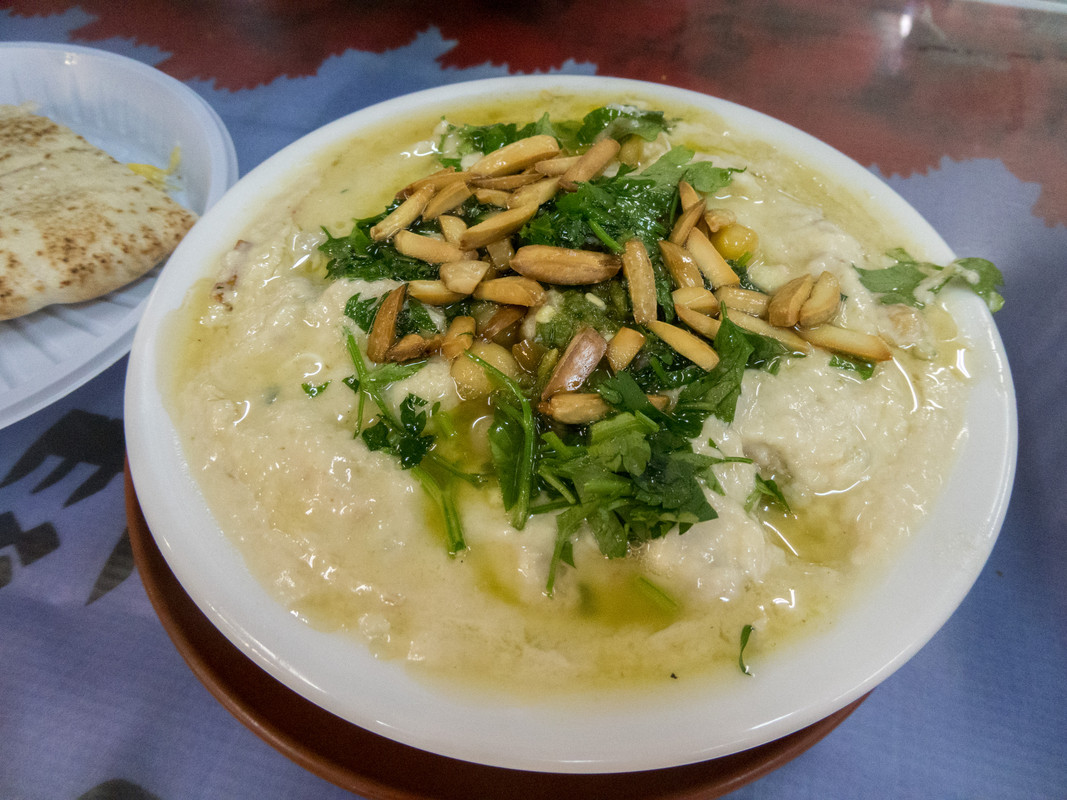 The 'tourist zone'
Feeling full and happy after breakfast, next we headed to the area the hotel owner had marked on our map as the "tourist zone". Starting at a large roundabout filled with palm trees, we went on to roam wide, empty streets lined with English-signed restaurants. Distinct from the inner city where we were staying, this entire area looked like a beach resort. Palms swayed in the breeze, their trunks encircled by coloured fairy lights, as a few people quietly cleaned restaurant terraces in preparation for lunch service. We wandered aimlessly, examining the cafes and high-rise hotels, and eventually came to an archaeological park.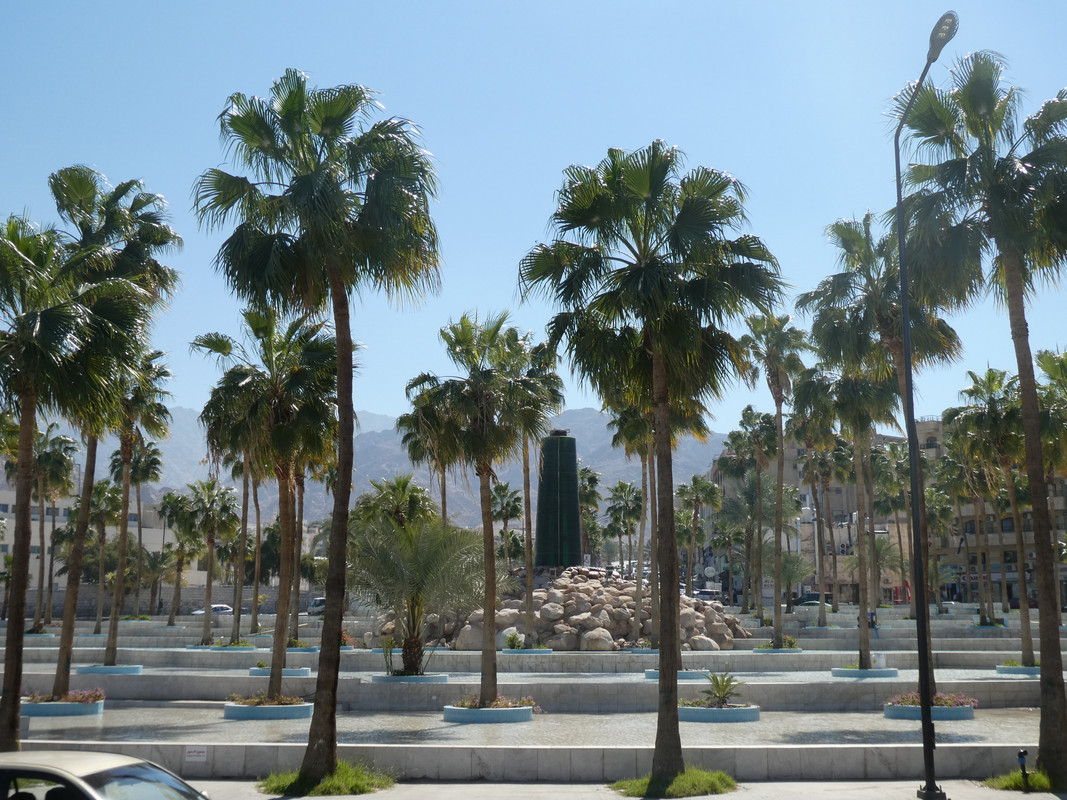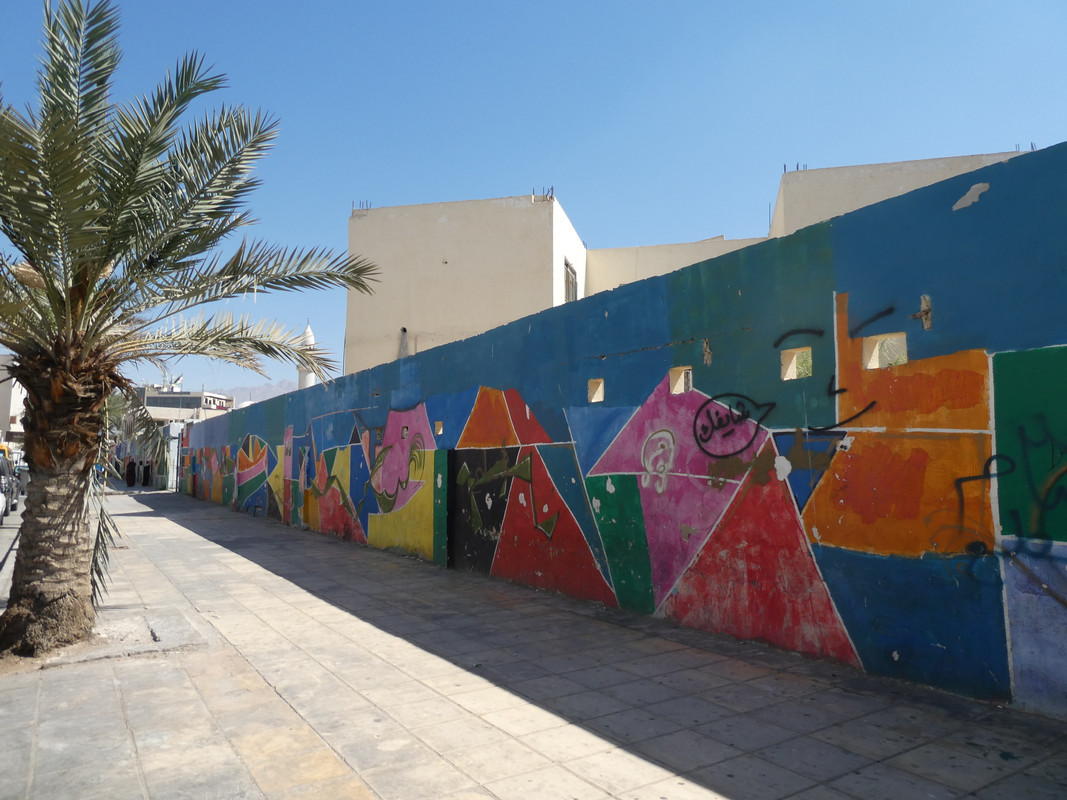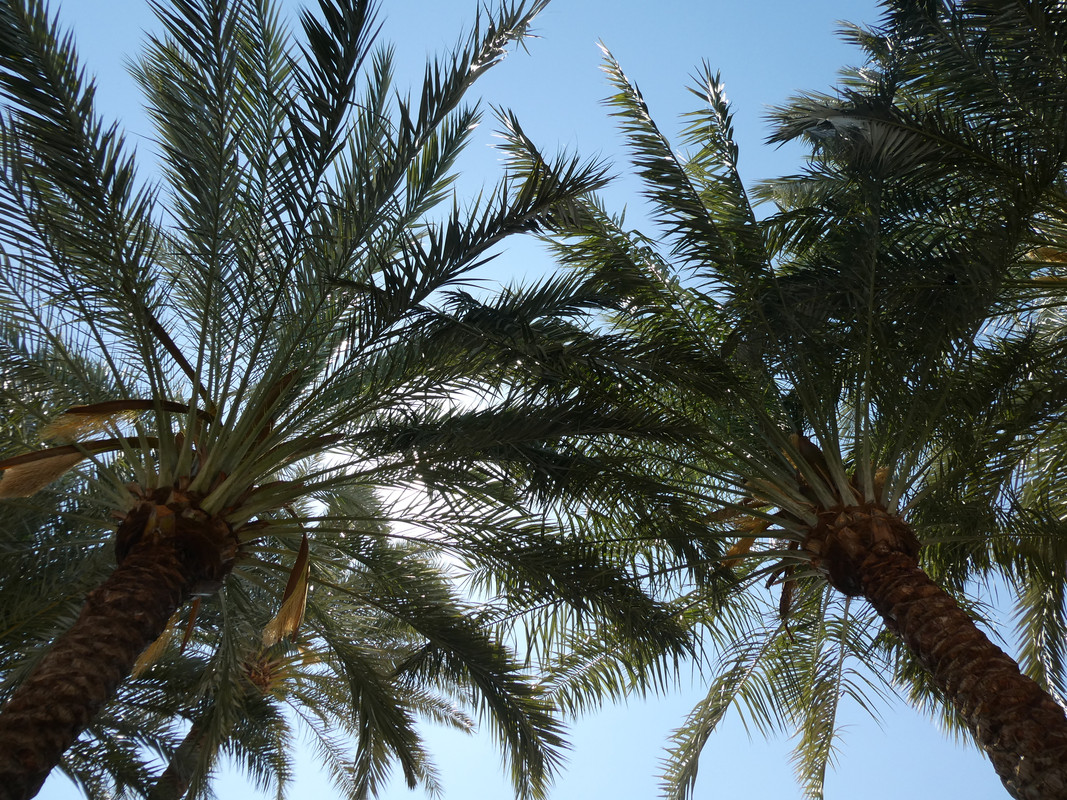 Old Islamic Ayla
The gates to 'Old Islamic Ayla' were open, so we stepped inside for a look. The archaeological park was deserted except for another couple of tourists at the opposite end. We proceeded to follow the crudely-marked path around, stopping to read the few information boards that we could (others were missing, or had been vandalised). The park could evidently benefit from some investment and attention, but it was still quite interesting to see Aqaba's ancient foundations.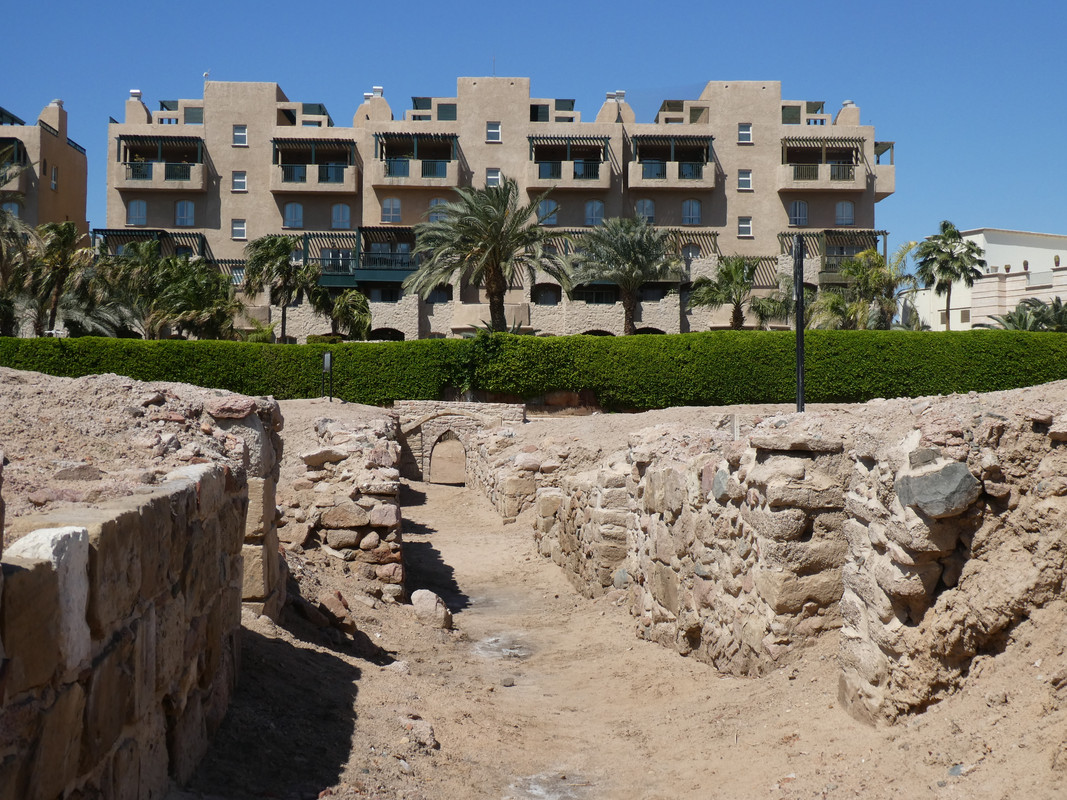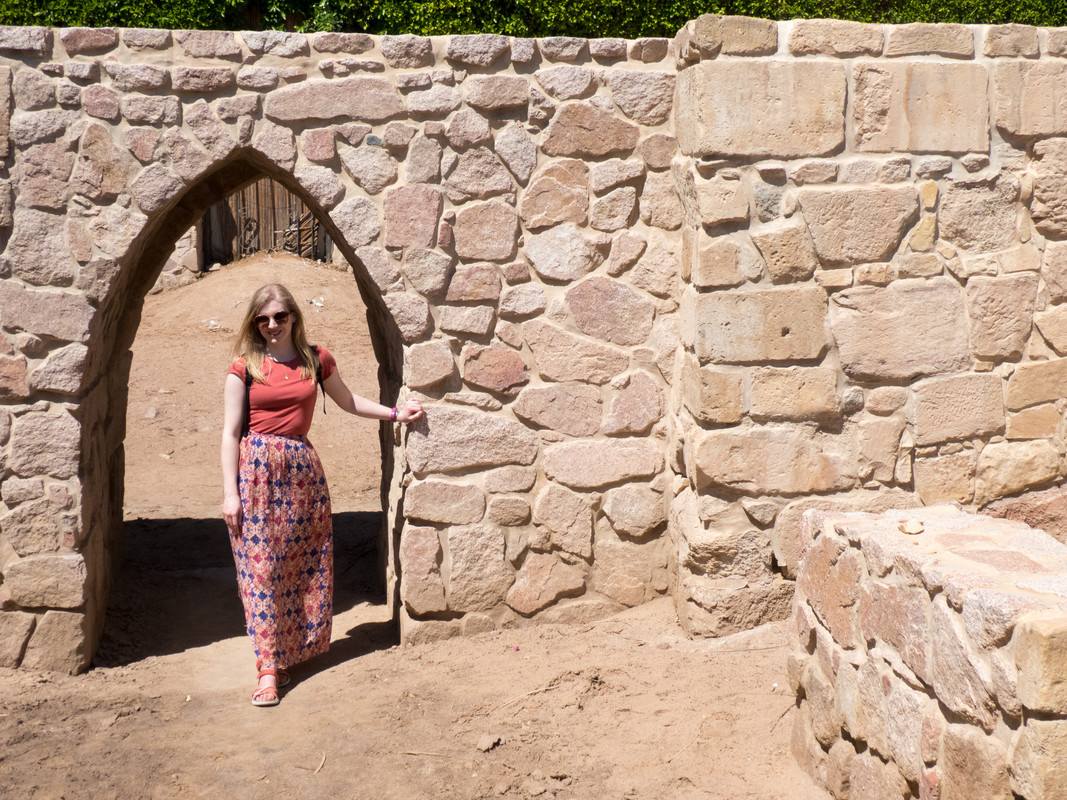 Sharif Hussein bin Ali Mosque
Walking past the Royal Yacht Club, next we came to the gates of Sharif Hussein Bin Ali Mosque and walked in for a look. We were barely a few steps in when a man stopped us and told me to put on a skirt and a loose head/arms covering. I was a bit annoyed that the long skirt and headscarf I'd worn for this purpose were considered insufficient, but I did as I was told. The extra clothing left me sweltering under the hot midday sun, and it seemed very unfair that Steve could get away with wearing shorts and a t-shirt. Nevertheless, it was worth going in to admire the mosque's elegant grounds and beautiful facade.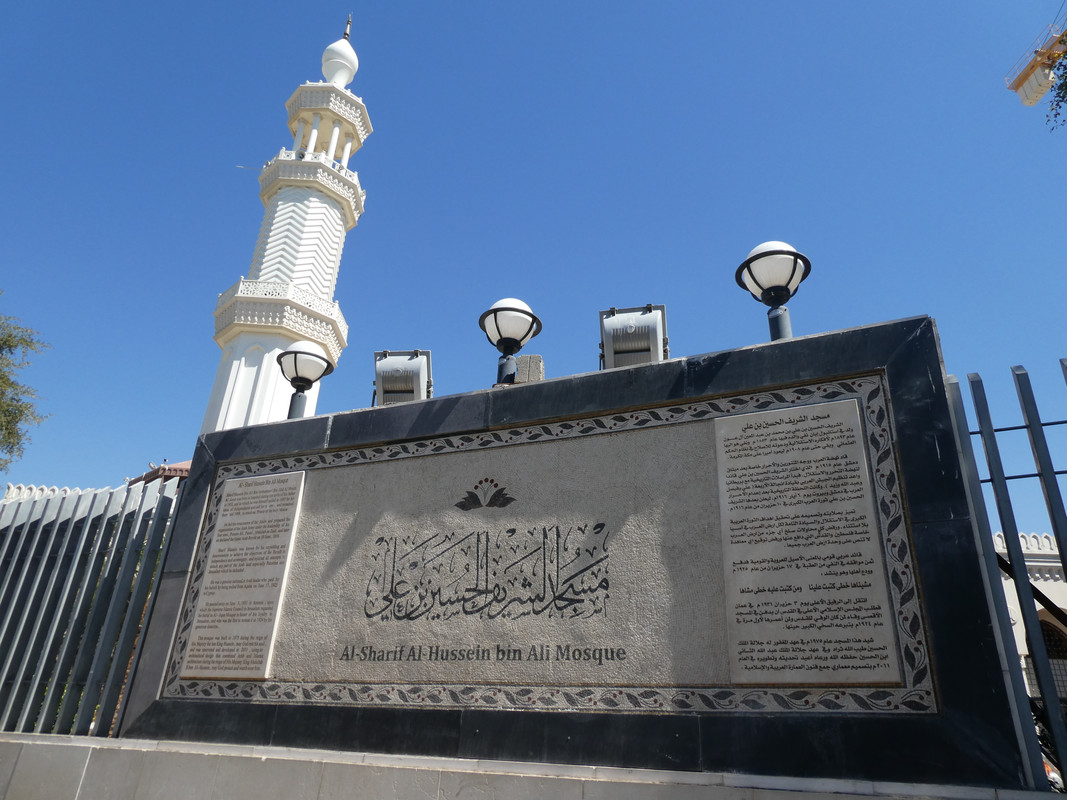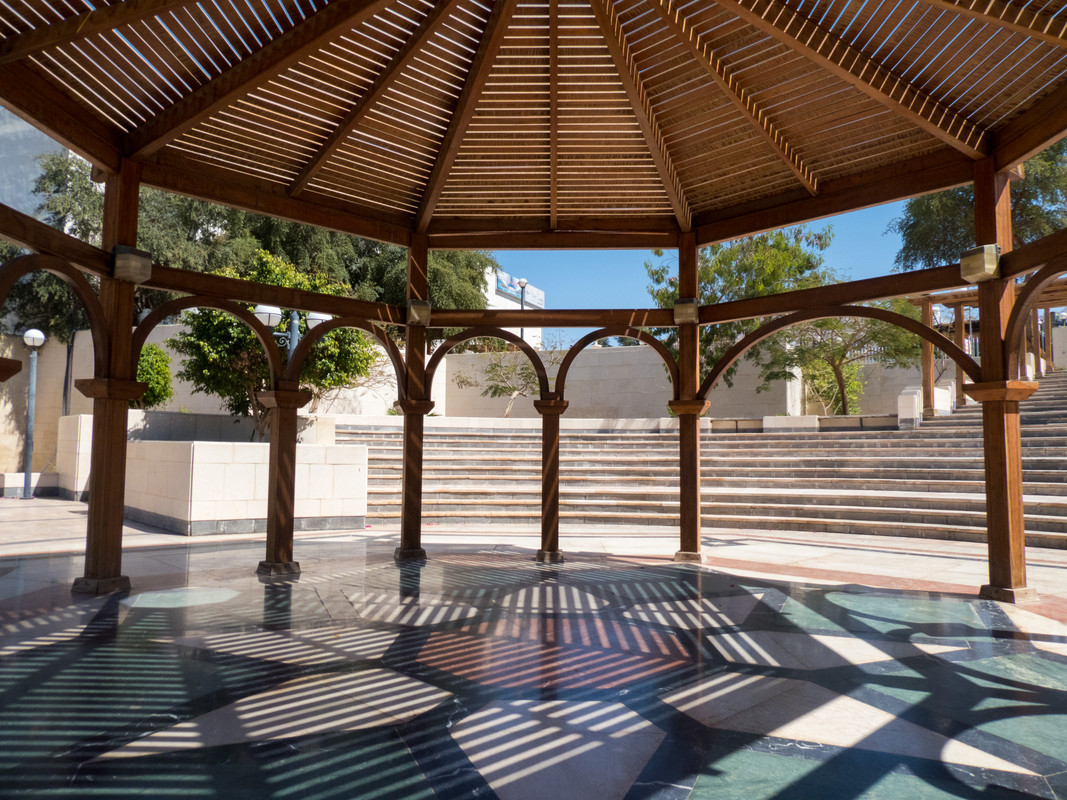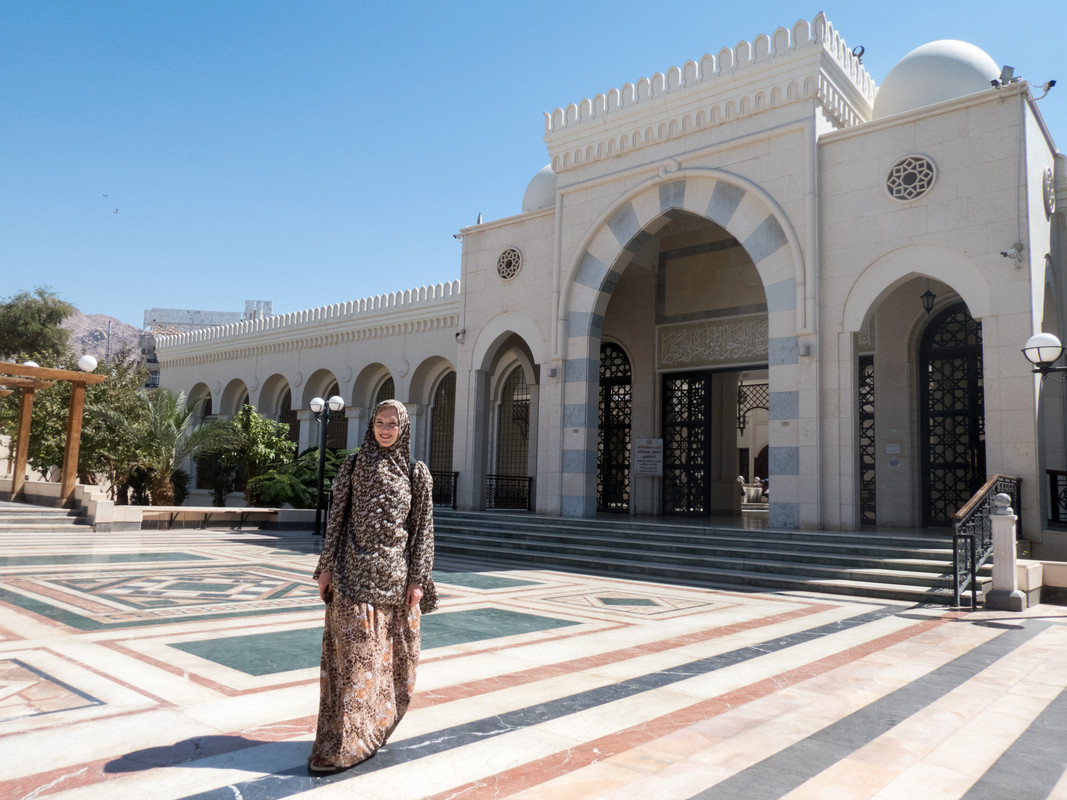 Glass-bottomed boat
We'd barely reached the beach when a man grabbed our attention and offered us a ride in a glass-bottomed boat. In truth we had been planning to take a ride in a glass-bottomed boat at some point, but not with the first person who accosted us. I was a little reluctant, but the boatman offered us a reduced price (compared to that in his leaflet) of 40D for an hour's ride, and we decided to accept his offer. He sweetened the deal further by giving us both free cans of Pepsi and bottled water, and to our surprise we were the only people on the boat.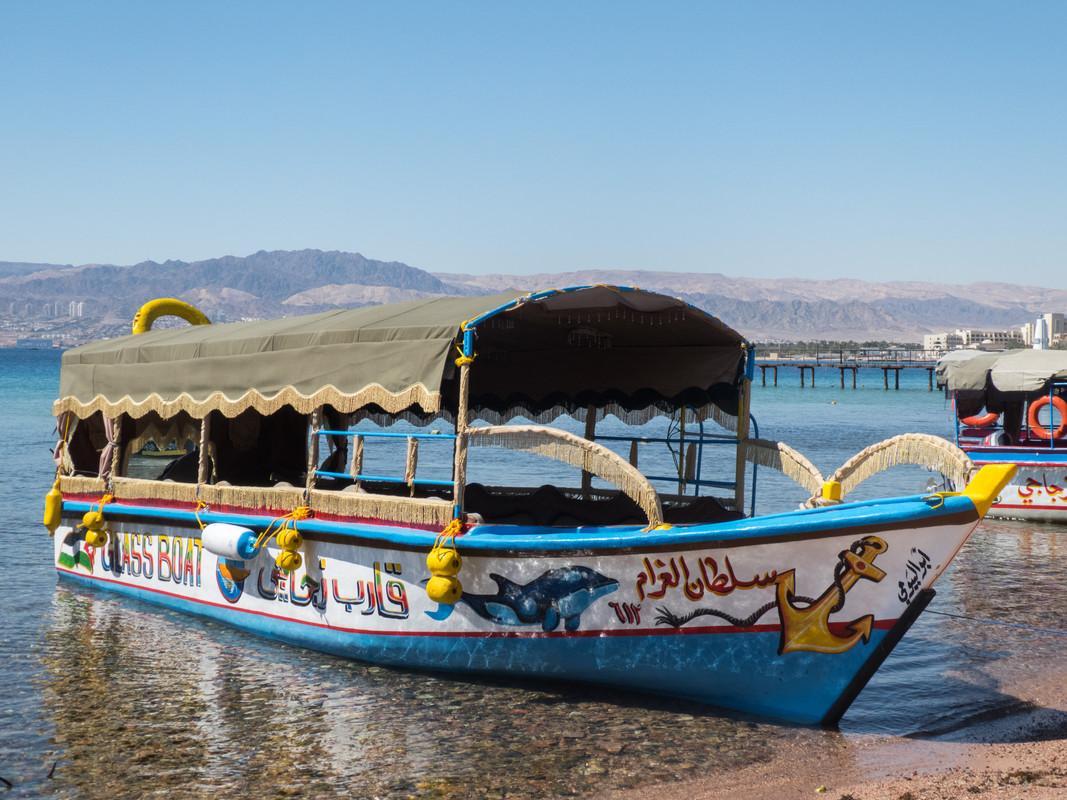 Most likely it was not the best tour available – our boatman didn't speak much, and the smallish glass panel in the boat's floor was not all that clear. Nevertheless, it was a thrill to see the the strange corals, colourful fish and spiky black sea urchins up close and I couldn't believe how close they were to the shore.
Our guide went on to show us a sunken ship, fuel tank and military tank, all of them ethereal in the turquoise depths and coral-encrusted. He took us in a large circle around the inlet, pointing out Israel's city of Eliat on the opposite shore as well as the pirate ship-like vessel owned by Jordan's Crown Prince. We stopped by the Royal Yacht Club to watch black crabs scuttling over the rocks before heading back to shore.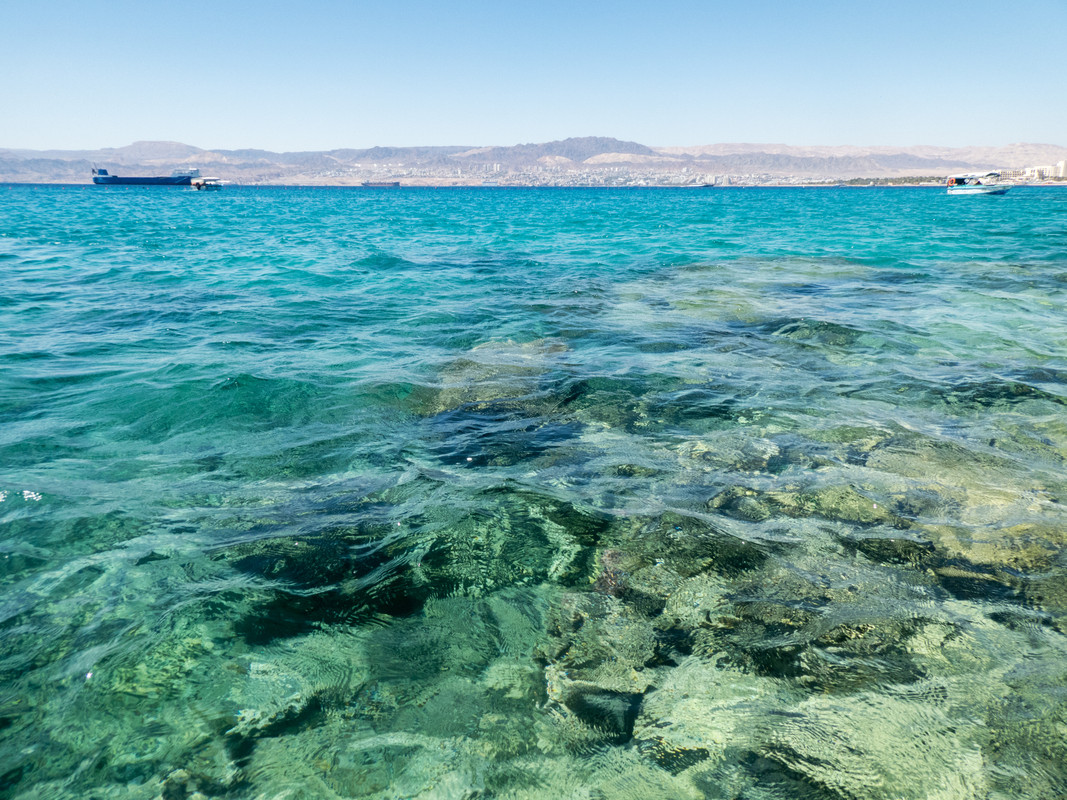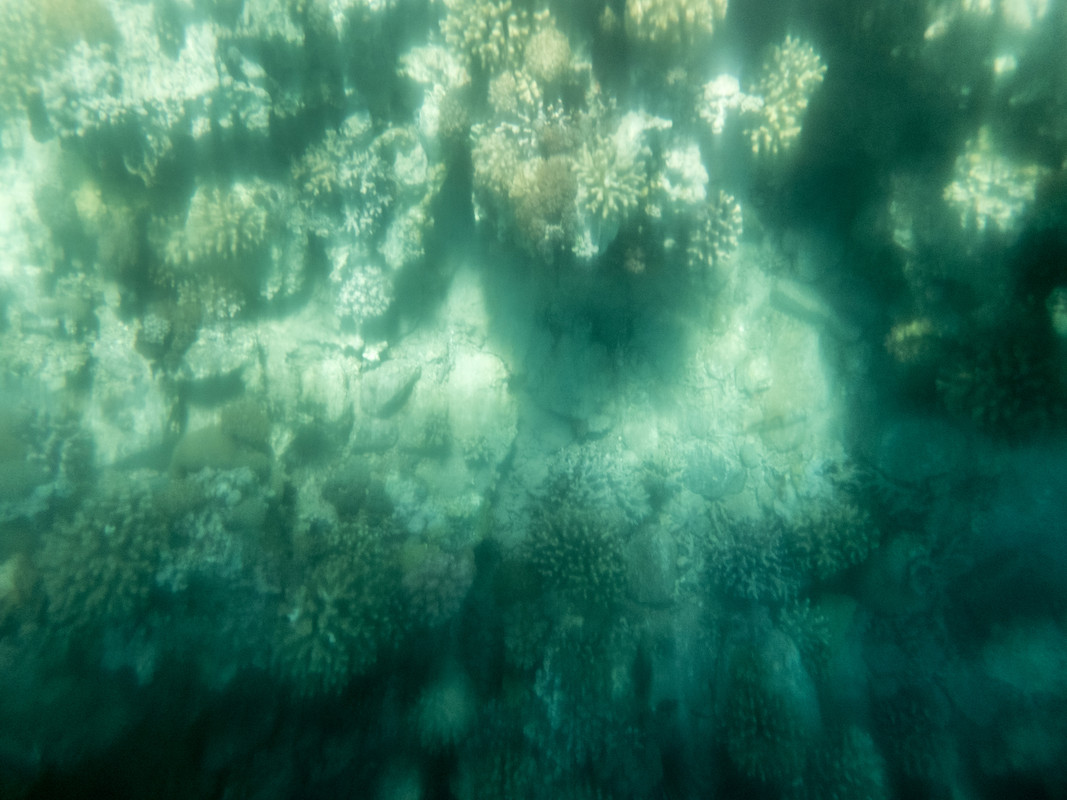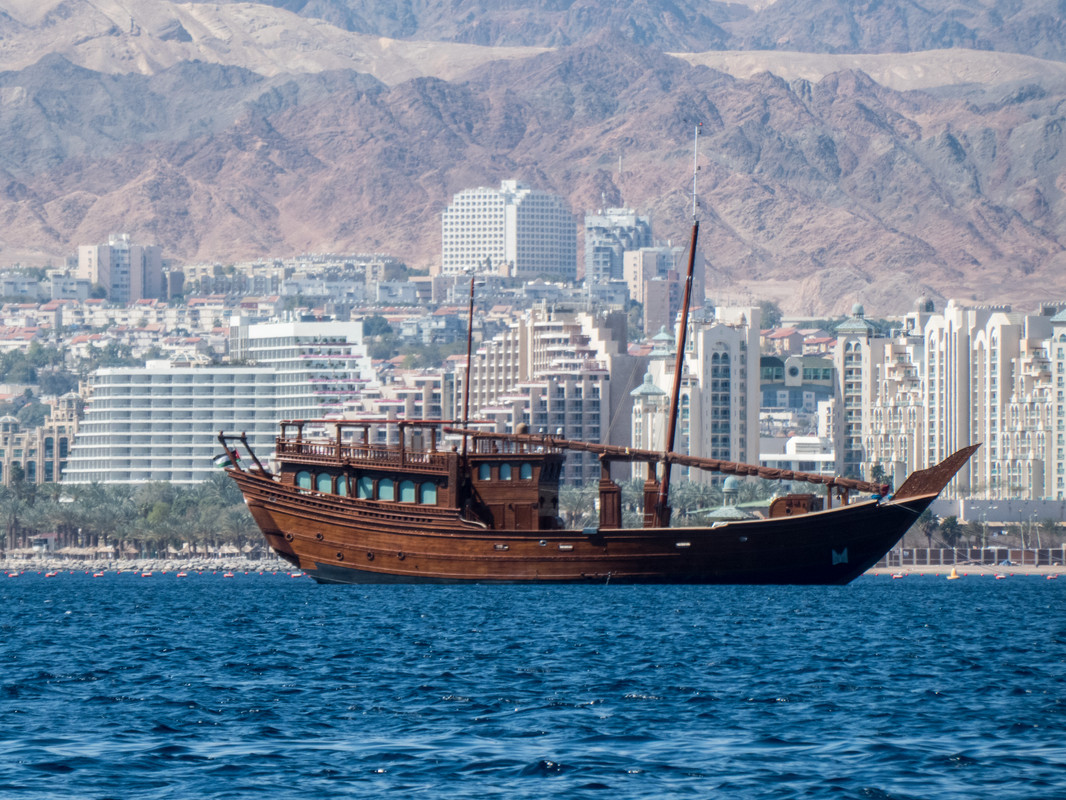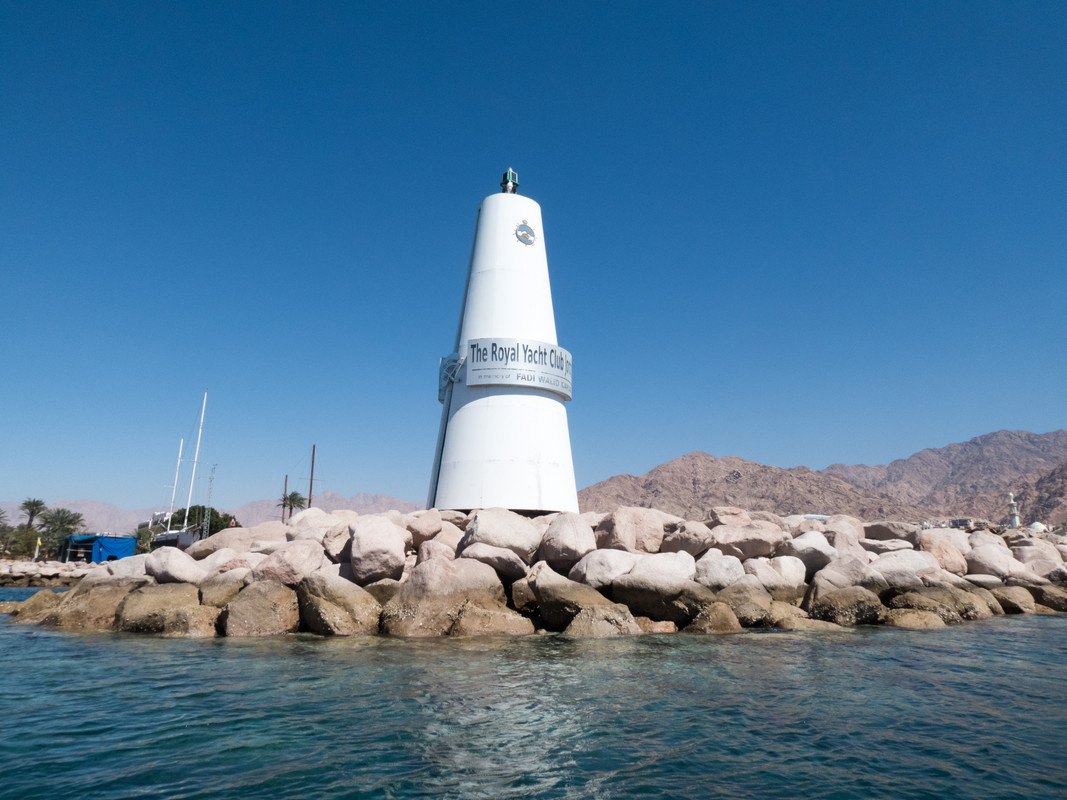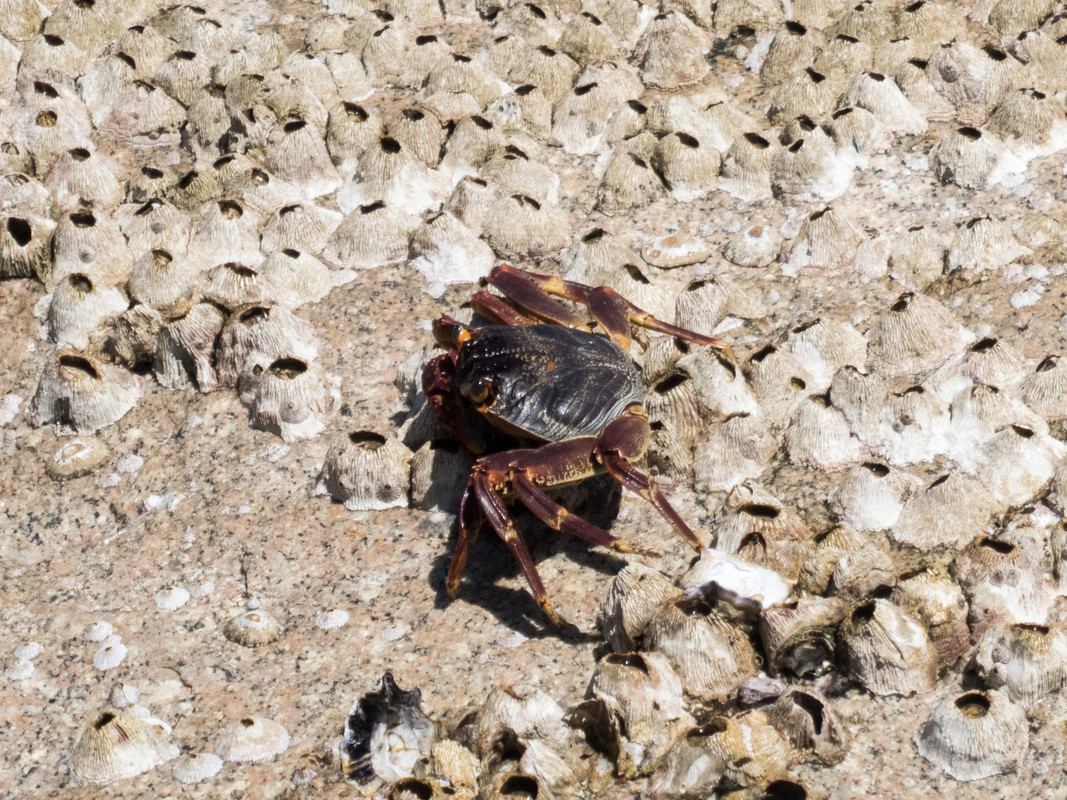 Sunset at the beach
Back on dry land, we walked along the coast as far as the (closed) Aqaba Museum before turning back. We stopped for a rest in the shade of a beach-front cafe and enjoyed some sweet, minty black tea before deciding to return to our hotel for a nap. I stopped at a bakery on the way and bought a large baklava ball coated in crisp vermicelli, which I relished back at the hotel with yet another cup of tea.
Later we returned to the beach and found a patch of shade to sit in and read. All around us, local families were relaxing, socialising, swimming, playing, and even having barbecues; easily outnumbering the few tourists sunbathing in bikinis.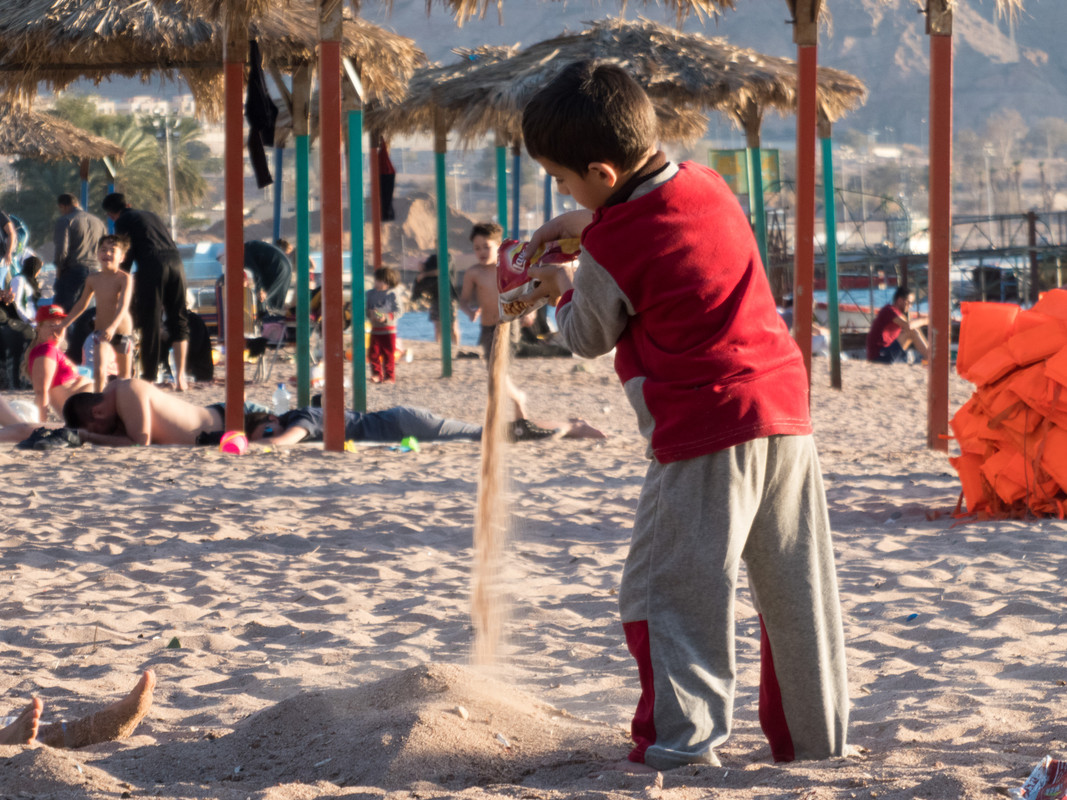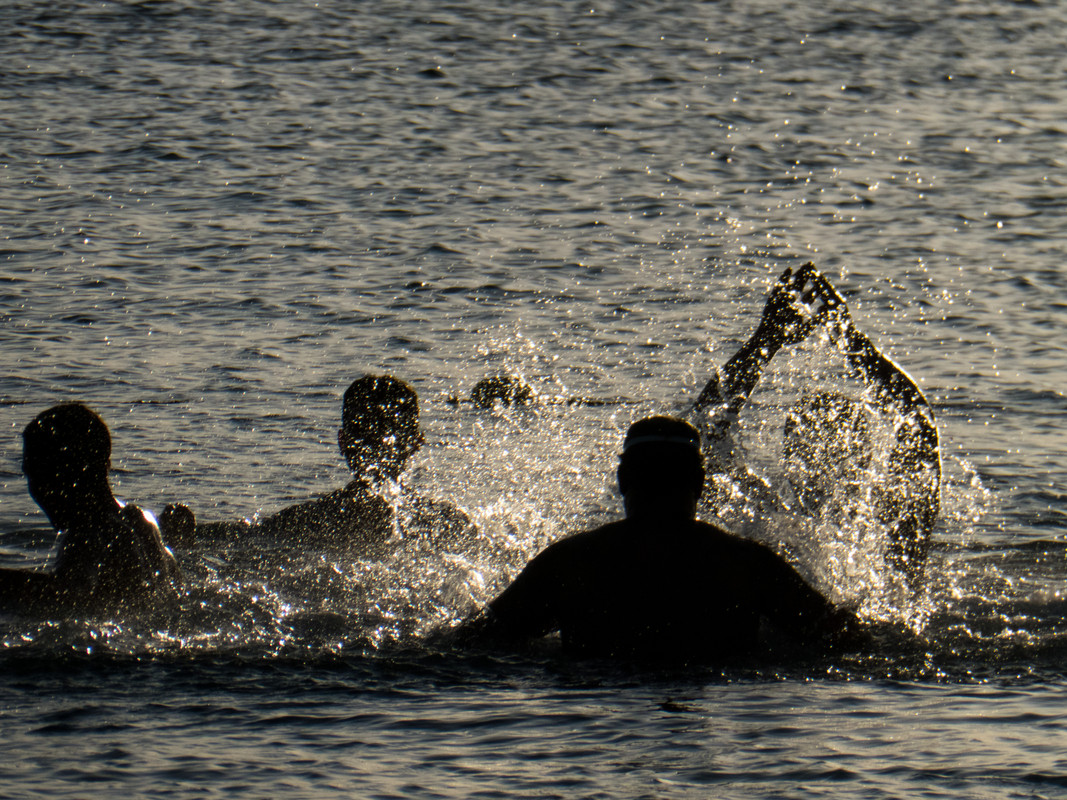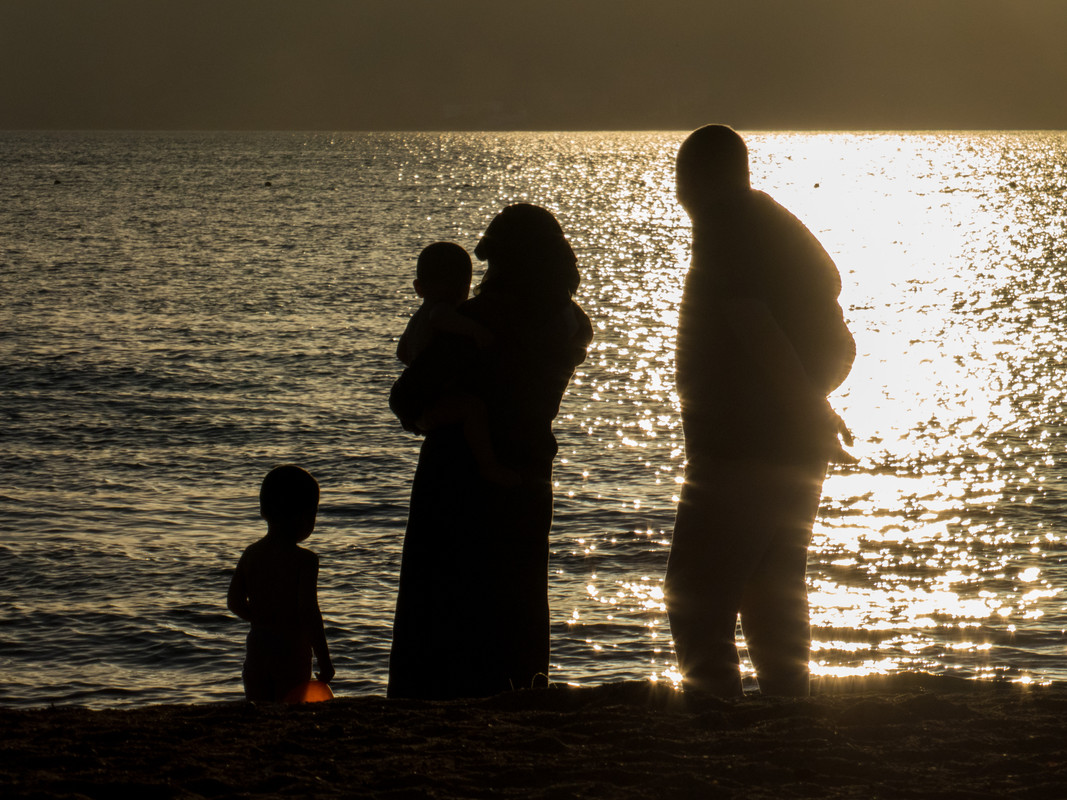 As sunset arrived we moved closer to the shore to take photos. The clear sky made for a slow, beautiful sunset, and we took our best pictures from behind the little wooden pier onto which many people had climbed (despite it being closed off by a locked gate).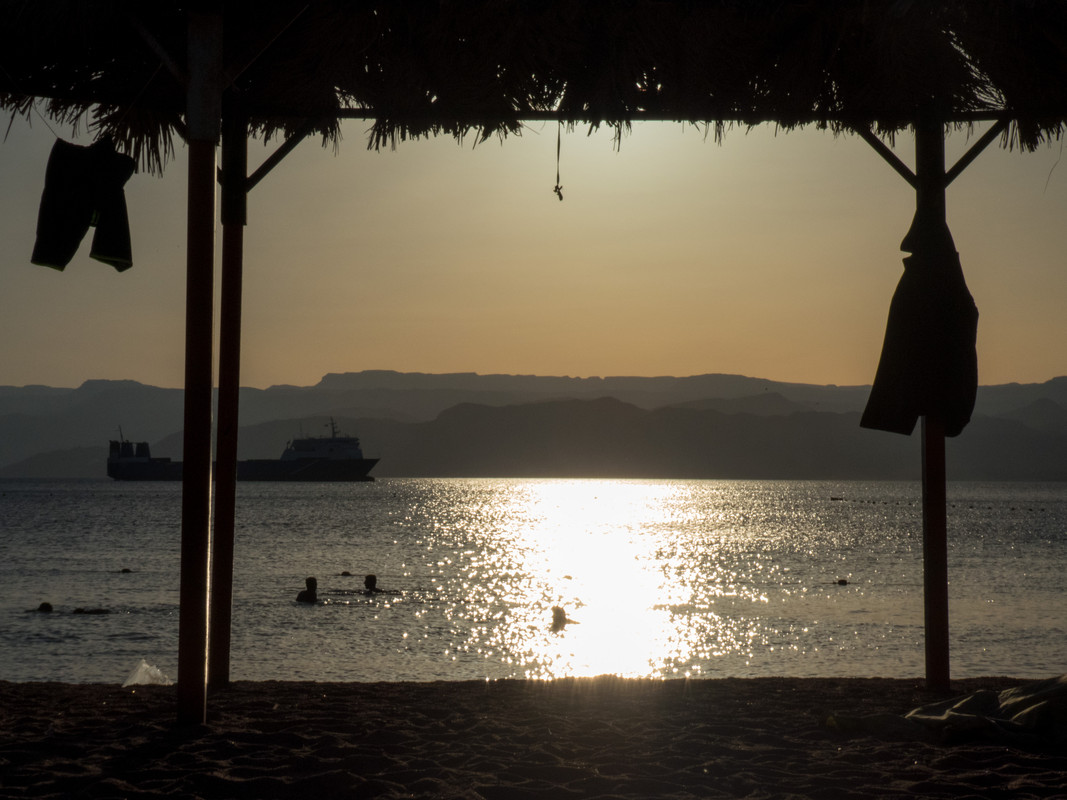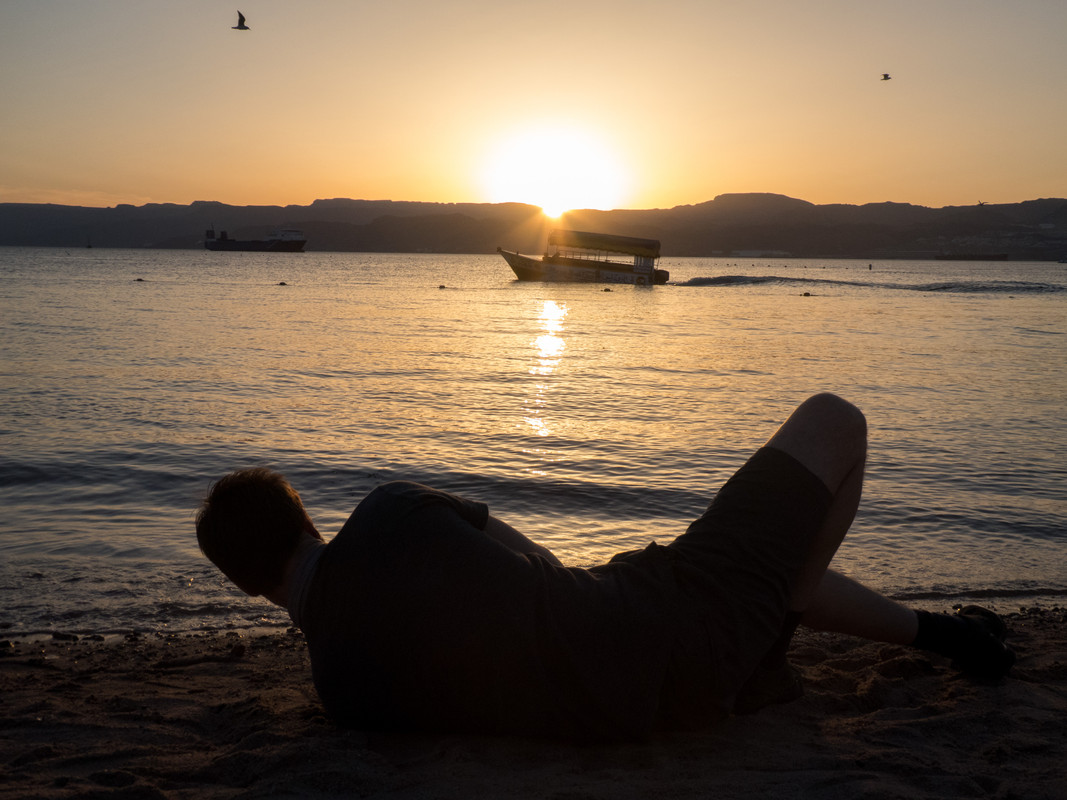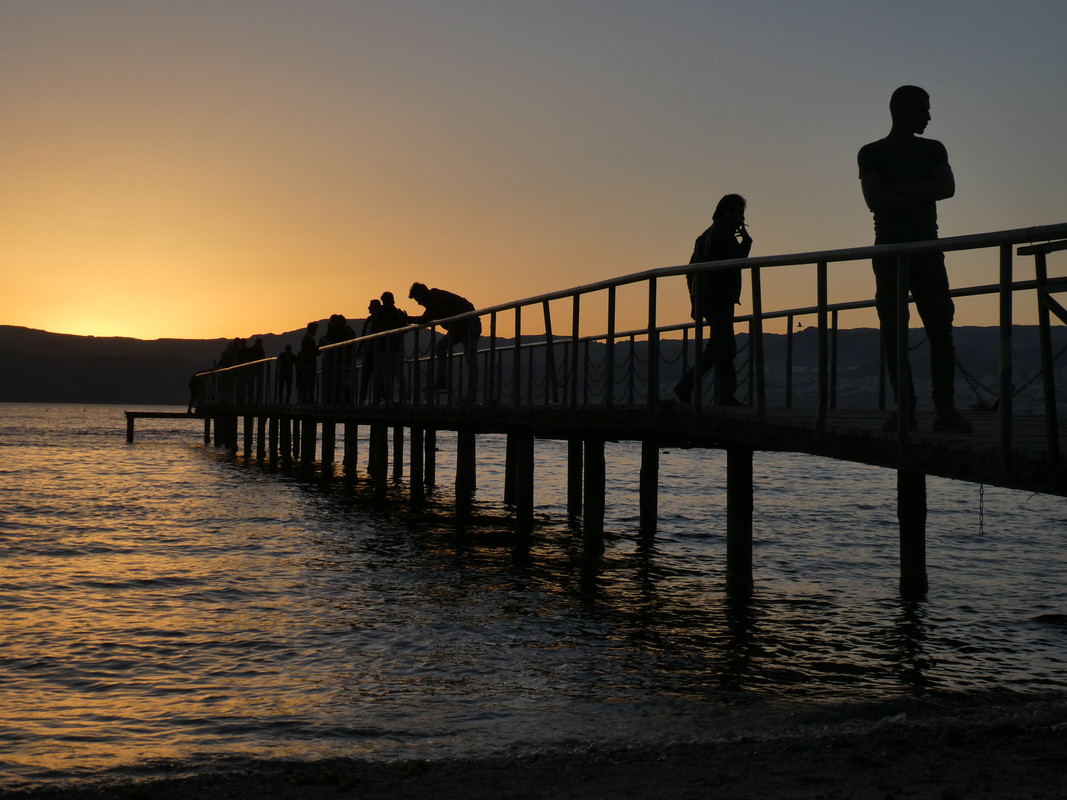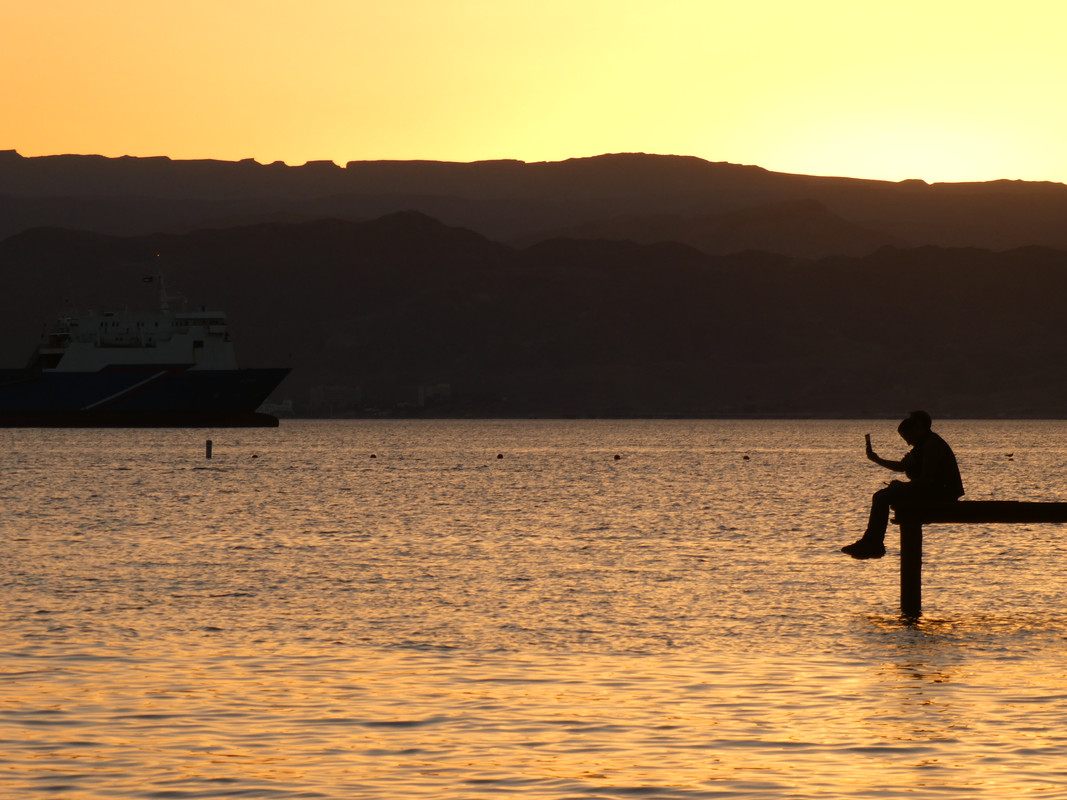 Rooftop cocktails
We finished our first day in Jordan with a bit of Western extravagance. Walking to the Hilton hotel nearby, we took the lift to the Diwan The View Rooftop Lounge and bought two expensive drinks – each costing 8D, almost double the cost of our combined breakfast (sadly, we had narrowly missed the 4-6pm Happy Hour)! But it was a worthwhile splurge. We had excellent seats right by the glass wall, through which we had a wonderful view of Aqaba's shoreline aglow with coloured lights.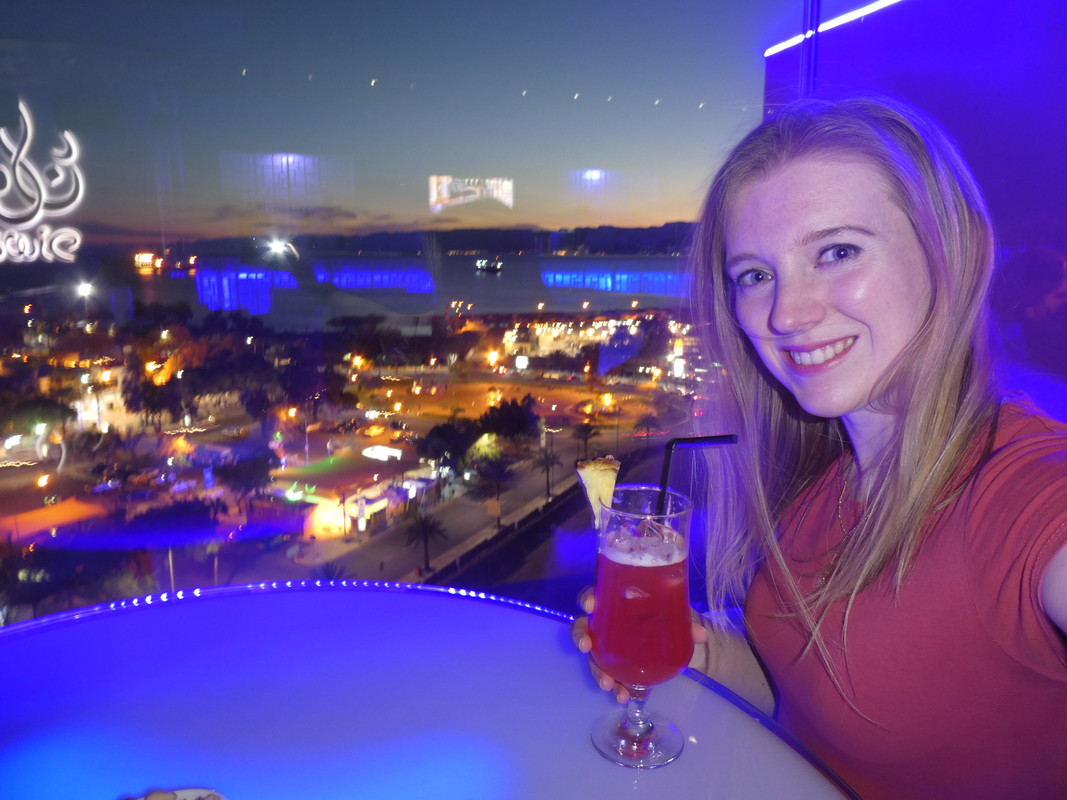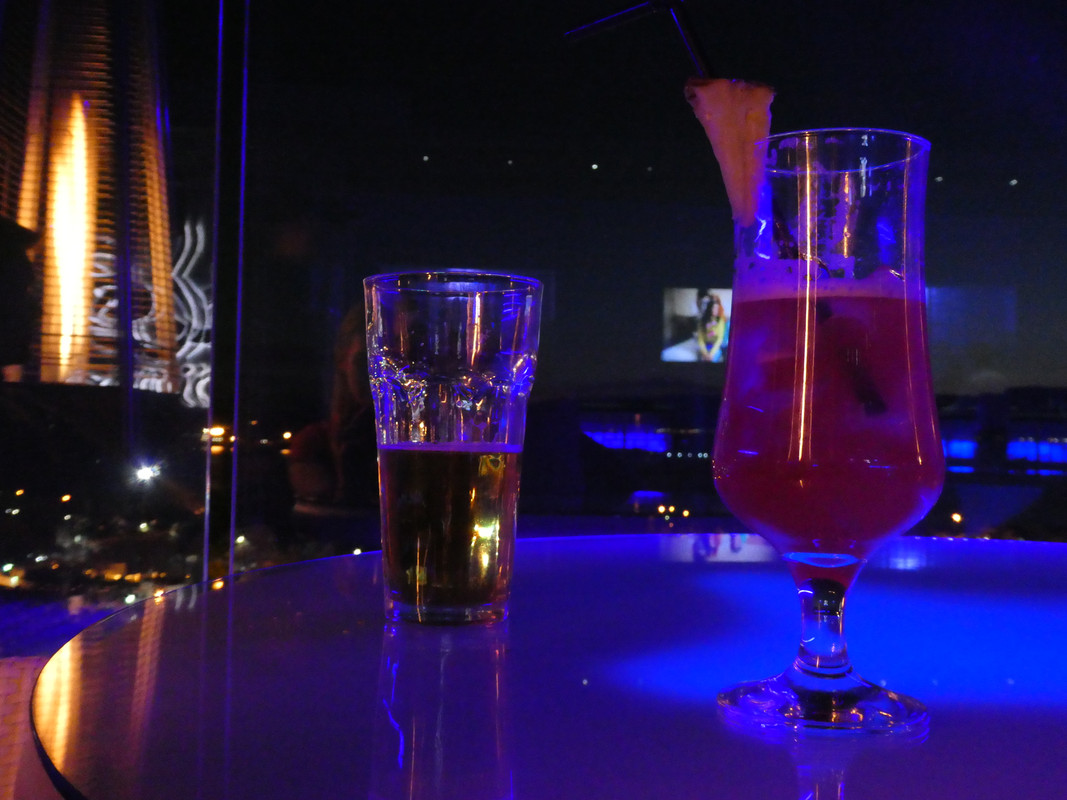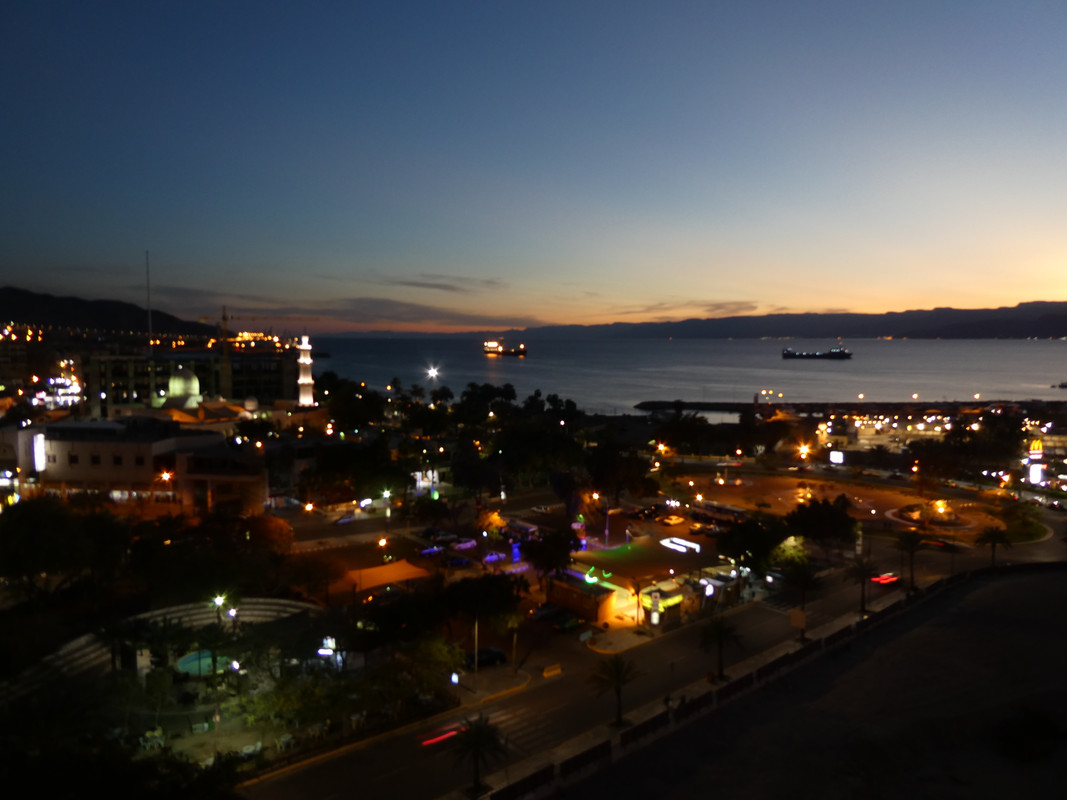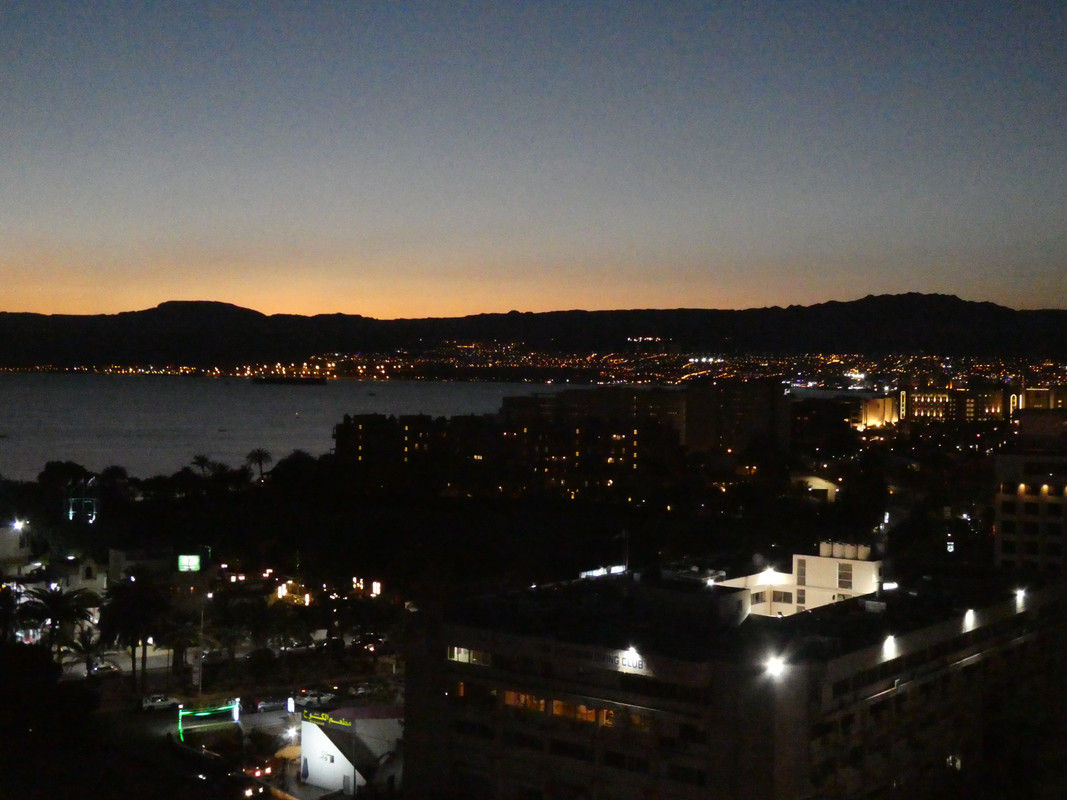 Khubza and Seneya
For dinner we went to Khubza and Seneya, a small restaurant in the tourist zone with outdoor seating. I ordered the chicken and vegetables in garlic sauce, with a side of moutabel (a smokey, creamy dip made with aubergine), while Steve had chicken livers with pomegranate molasses and rice. Everything was delicious.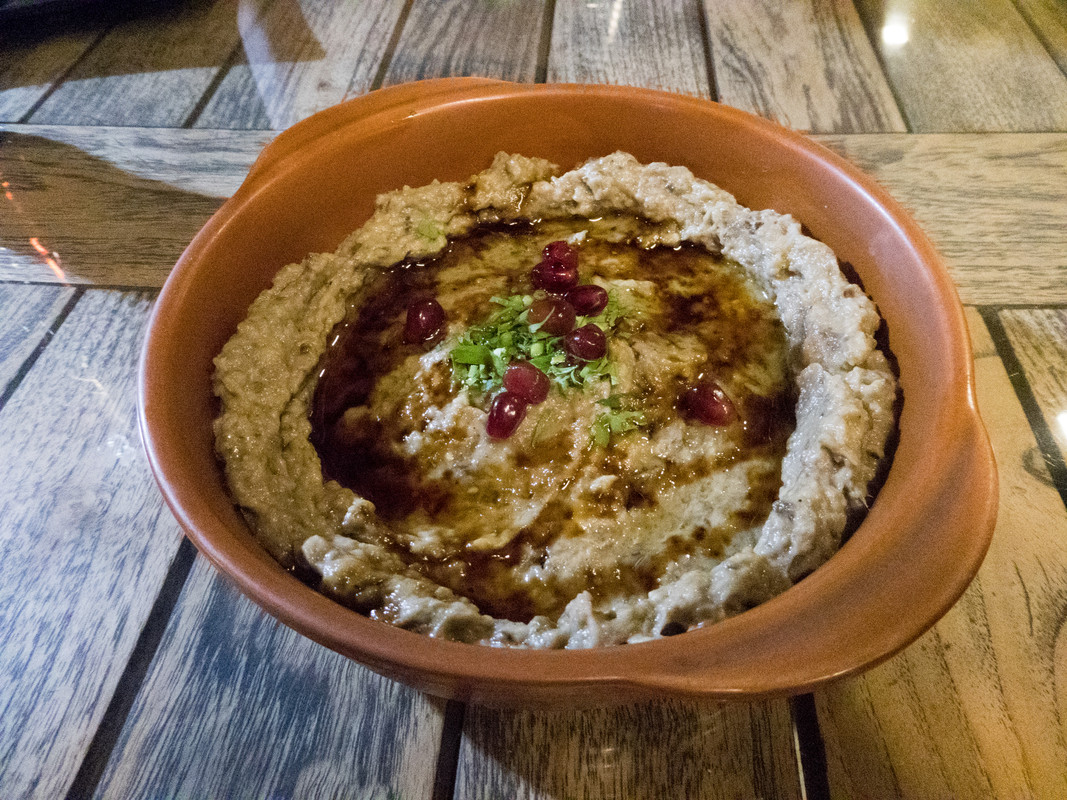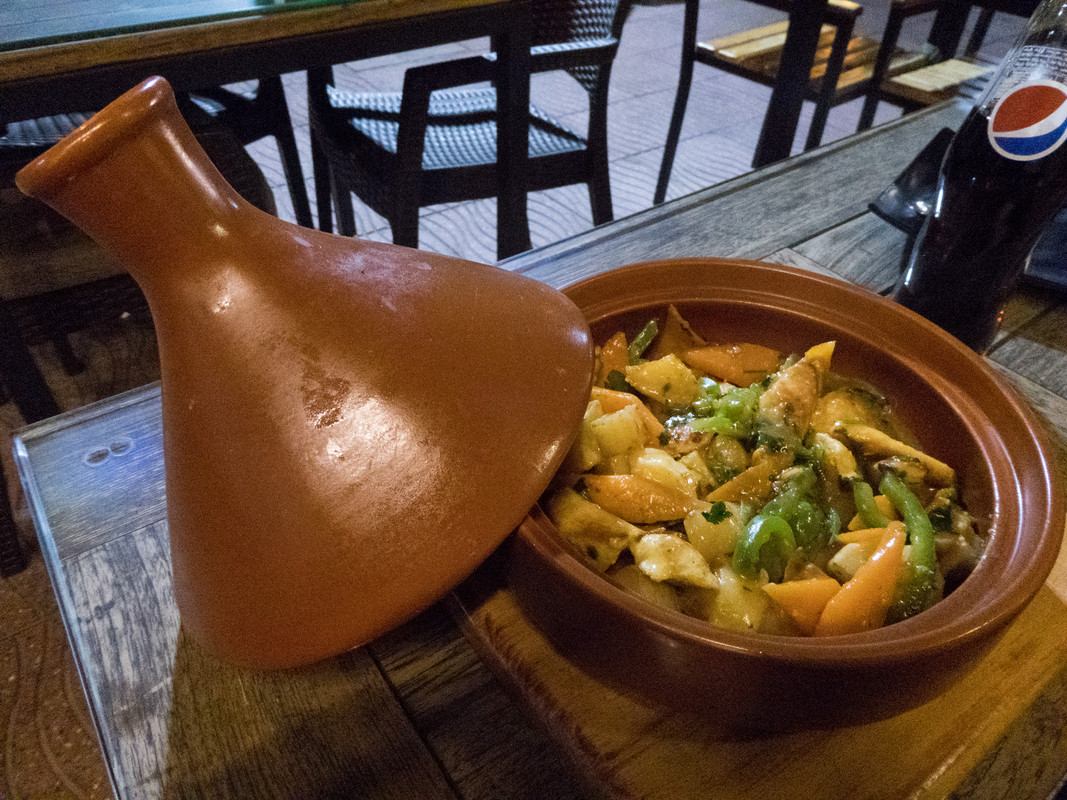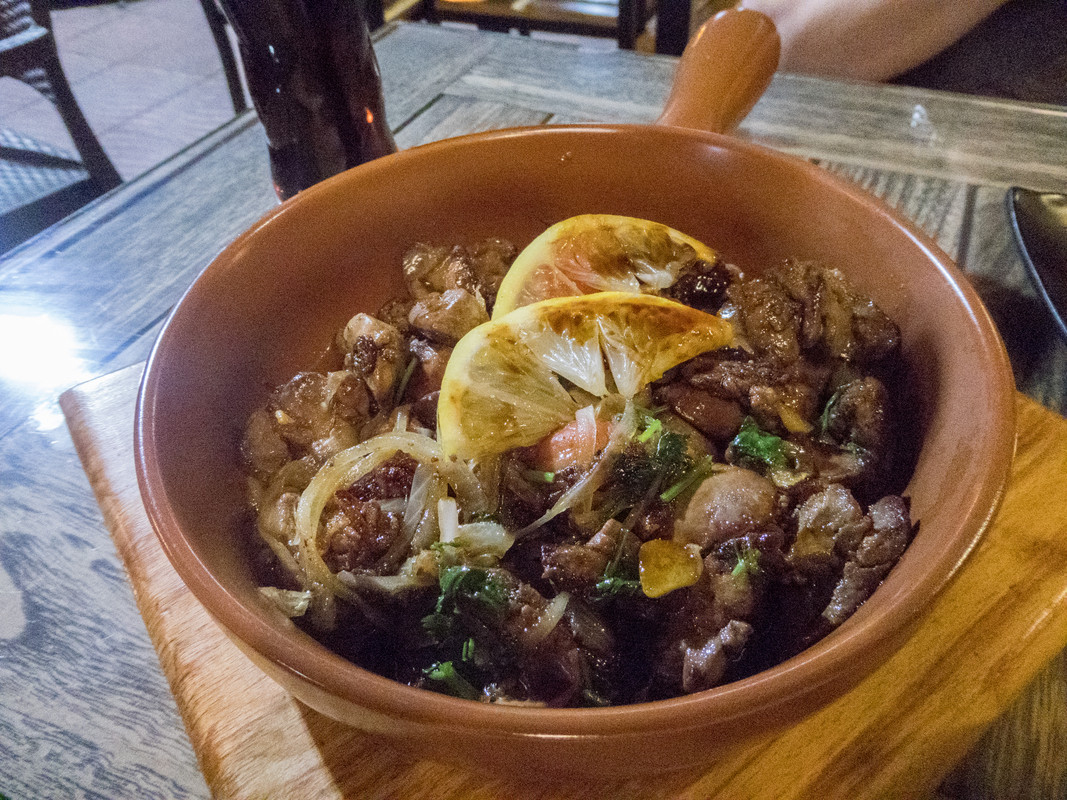 Despite being reasonably full, on the way home we couldn't help but return to the bakery to buy more baklava – a full tray of different types this time!
After this short but sweet introduction to city life in Jordan, the following day would bring another entirely new experience. Our next stop: a Bedouin camp in the heart of the Wadi Rum desert.
To be notified when the next blog post goes live, subscribe to this blog or like and follow Roam with Juliet on Facebook.
All text and photos (c) Juliet Langton, 2019. All rights reserved.