At mine and Steve's wedding, we got a few raised eyebrows when we told people what we were doing for our honeymoon. Apparently, going on a punk rock cruise with friends and then going to Disney World and Universal Studios is not many people's idea of romance. But it may have been the most fun we've ever had!

The cruise was book-ended by two days in Miami, because it was convenient for the flight in and the cruise. Our starting point was an airbnb between Miami North Beach and Sunny Isles Beach, selected because it was large enough to house nine of us. It was a rather far away from Miami's tourist attractions, but halfway between South Beach and Fort Lauderdale which meant it was handy for the pre-cruise party and cruise. Steve and I arrived late in the day and severely jetlagged, so it was all we could manage to walk to Duffy's Sports Grill for dinner before retreating to bed.
Breakfast at Kuten
The next day, we met our housemates and walked to the nearby cafe, Kuten, for breakfast. I was a little sceptical about going there because the menu looked healthier than the blow-out American breakfast I'd been craving, but it was the only option within walking distance. Fortunately it was better than I expected, albeit quite expensive for relatively small portions. Over two visits we tried the Kuten benedict, the French toast, the breakfast croissant, and the eggs your way, from best to least good respectively. Kuten offers loads of pricey fresh juices, however you're out of luck if you want a cuppa. I tried to order an English Breakfast tea and ended up with a chai latte.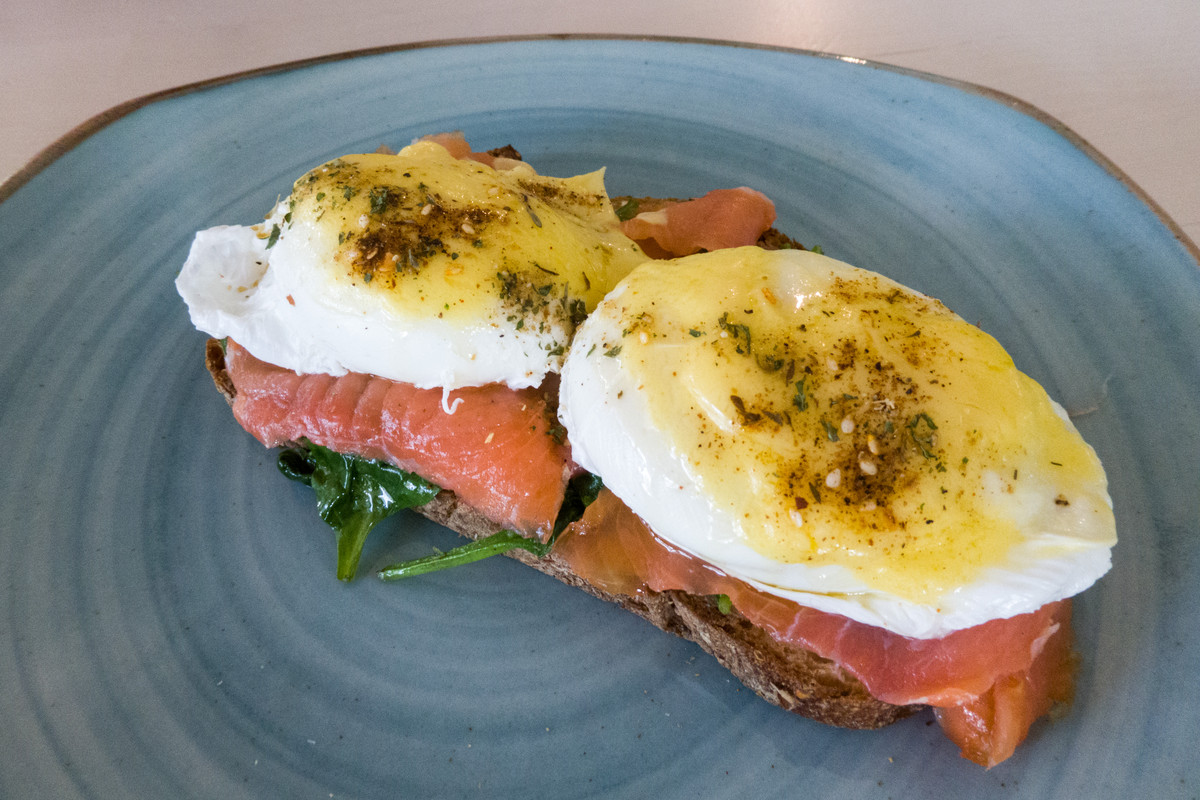 Miami Beach Botanical Gardens
We decided to start our day of sightseeing at the Miami Beach Botanical Gardens, and then to walk down to South Beach. The gardens were small but worthwhile, offering a wealth of gorgeous plants, colourful koi fish, and cute tortoises. We spent a fair amount of time there, mesmerised by the tortoises, before moving on.




Lincoln Road
Walking south from the gardens, we stumbled upon Lincoln Road and decided to walk down it to the beach. This long, wide, pedestrianised street is Miami's main shopping street. Its central section alternates between outdoor restaurants and parkland-like spaces. I thought its sections of black and white-striped pavement were particularly cool!
Miami Beach
Miami Beach met my expectations exactly: a wide, flat expanse of pale sand, filled with matching parasols on one side and glistening sunbathers on the other (it seemed no-one wanted to use the parasols!). We walked down to where the shallow turquoise waves were lapping the shore, and admired the distinctive blue and yellow lifeguard stations.
We returned to the shade of the promenade and followed the path south for a while. Our target was Miami's southernmost point, but after calculating it would take us too long to reach it, we reset our course towards our chosen lunch spot.
Lunch at Yardbird
I liked Yardbird Southern Table and Bar the moment I stepped inside. The stripped-back yet warm interior and alternative-indie soundtrack playing quietly in the background may as well have been designed just for me.
The menu of deep-south US food was even better, and we wanted a bit of everything. In the end we shared cheese grits, a rich and gooey mac and cheese, out-of-this-world street corn, and the lunch plate express, which comprised two pieces of succulent fried chicken (like upmarket KFC), a buttermilk biscuit (a savoury scone to us Brits) and cubes of spiced melon. Our lovely waitress offered us a free beer she'd poured by accident, and fetched us an extra piece of fried chicken (off-menu) when we found we hadn't ordered enough. The food was delicious and the experience really enjoyable.
Art Deco in South Beach
After lunch we headed to the Wolfsonian Museum, Design Store and Cafe, the start point for a South Beach Art Deco walking tour we'd booked in advance.
The Wolfsonian itself is filled with wonders. Beyond the very cool shop (from which I wanted everything), the museum holds some real art deco treasures, including a golden post box and a spectacular frozen fountain (a decorative fountain motif). From there we were taught how to identify art deco architecture and taken around a number of art deco hotels, where we were shown how the tile patterns pointed to the secret gambling dens. We finished up on Ocean Drive, where we saw the former Versace mansion from the outside and our guide showed us photos taken inside.
11th Street Diner
Appropriately enough, our next stop was the most art deco-styled restaurant in town: 11th Street Diner. It looks almost spaceship-like from the outside, and like a retro-futuristic-styled, typical American Diner inside. Steve and I were still full from Yardbird, so while our friends ordered giant plates of food I savoured a sumptuously thick and creamy Oreo milkshake.
Afterwards we headed to the pre-cruise party in Fort Lauderdale, where we met some of the people we'd be hanging out with on the boat and danced to the traditional Irish melodies of Brogue Wave.
Day 2: Lunch at Versailles
Skip to our final day in Miami, after the cruise (I'll cover the cruise in a separate post), and we were staying at the very reasonably priced Hotel Croydon in the Mid-Beach area. After checking in we began our Little Havana tour with lunch at Versailles: marketed as "The World's Most Famous Cuban Restaurant". Whether that's true I'm not sure, but we really liked it.
We shared a Versailles Combo (ham and beef empanadas, ham and chicken croquettes, and yuca fries served with cilantro sauce) to start, which was a perfect introduction to Cuban snacks. The croquettes in particular were amazing!
For our mains, I had a giant Calle Ocho special sandwich (sweet ham, turkey, bacon, swiss cheese, mayonnaise, lettuce and tomato on toasted cuban bread) with plantain chips, and Steve had the Cuban-style Roast Pork with sweet plantain. Both were really good, but the highlight for me was the yerba mate soft drink, which tasted like a blend of cream soda and cola.
Little Havana
Our friends had gone on a Little Havana walking tour previously and told us about it, which meant we knew where to go by ourselves! At El Pub, an old Cuban restaurant with large, colourful cockerel statues outside, Steve bought a short Cuban coffee from the hatch for a few cent.
Next, we dropped by the Azucar ice cream shop where I bought a cone of their most famous ice cream flavour, Abuela Maria. This comprises cream cheese, guava and biscuits, and tastes much lovelier than you'd imagine! We left just as an organised food tour was arriving. Finally we checked out Maximo Gomez Park, where all the locals go to play dominoes.
Wynwood Walls
Our final must-see in Miami was the Wynwood Walls in the very 'hip' neighbourhood of Wynwood.
The walls form a free outdoor art gallery, which also contains a couple of indoor art galleries. We loved seeing all the art, which was varied, clever, and beautiful. The indoor art galleries were my favourite parts, as these included information on each piece and the artists who made them.
Outside of these walls, the entire neighbourhood is a living, breathing work of art.
There's street art everywhere you look; even the power plant is painted. We walked up and down taking it all in, and saw many a cool cafe, and record shop. But ultimately we decided to head back to our hotel for a relaxed evening.
Sunset over Miami
Back at Hotel Croydon, we sought out the rooftop terrace to catch a glimpse of the sunset. Afterwards Steve went for a swim in the outdoor pool, while I read my book nearby. Even in the dark, the air felt pleasantly warm. We had a casual dinner and a couple of free Happy Hour drinks at the hotel restaurant, The Tavern, before turning in for the night.
In my next post, I'll reveal what a punk rock cruise is like… and particularly, what it's like if you're not a punk rock fan…
View all posts about our Honeymoon.
To be notified of future blog posts, subscribe to this blog or Like and Follow Roam with Juliet on Facebook.
All text and photos (c) Juliet Langton, 2019. All rights reserved.