This is day 2 of our Honeymoon in Disney World. Read day 1 here.
As our first full day in Disney World began, I didn't want to waste any time. I grabbed a cinnamon roll from the hotel cafe and headed straight to Galaxy's Edge, the Star Wars land within Hollywood Studios. As a huge Star Wars fan, this was the biggest priority of our trip and the thing I was most excited about. And wow, did it deliver!
Galaxy's Edge
Discovering Batuu
Walking into Galaxy's Edge was such a thrill. The area is so well designed as the desert planet of 'Batuu' – with all the architecture and accessories seen on similar planets in the Star Wars films – that you really feel as if you're in that galaxy far, far away.
I could try listing all the familiar features you'll spot there, but words can't really do it justice! Stormtroopers roam the area, accosting guests every now and then, and if you hang around long enough you'll spot Rey and Chewbacca walking around too! We caught them 'fixing' an aircraft…
The food outlets and gift shops are a large part of the experience. The extensive market area has stalls selling weird and wonderful snacks and drinks, as well as an immersive dining room with what looks like an alien creature cooking on a glowing rotisserie. Meanwhile, the gift shops are abuzz with sound and visual effects, such as wall-mounted monster's heads and alien characters moving and speaking. We had fun in them without having to buy anything.
The droid depot
I had prebooked online to build a droid at the droid depot, so I checked in there while Steve went to get breakfast. I elected to build a BB unit because they're the cutest. I chose the parts I wanted off the conveyor belt (instructions specify the parts you need, but you get a choice of colours), and then moved to a work bench to assemble them. Despite being surrounded by kids and their parents, I really enjoyed myself! The best part was 'activating' my droid after I'd built it, where I pressed a button and watched her gradually come to life.
Fun with my droid
Leaving with my new friend (named simply BB), I reunited with Steve and got him to take lots of photos of BB and I around the area. We explored caves, pressed buttons, talked to stormtroopers, and even bought and shared a blue milk!
It was fantastic fun, and the best part was that I could pose away without fear of judgement. In fact, I got several compliments on how BB matched my galaxy-design outfit! That's something I loved about Disney World: everyone is there to live their best lives revelling in their fandom. Things that would be embarrassing in the real world – be it wearing giant mouse ears, queuing to meet someone in a costume, or acting out a story with a toy you just built – are positively encouraged and celebrated here. When we'd finished taking photos and wanted to go on rides, I dropped off BB at the depot and asked to get her delivered to our hotel.
Star Wars rides
We rode Star Tours using FastPass, and Smuggler's Run using the single-rider queue (which was massively shorter than the standard queue). Both are simulation rides that place you inside a spaceship careering through the Star Wars universe, but Smuggler's Run is different in that you're assigned a 'role' and instructed to press certain buttons at certain points during the ride. They're immersive fun for a Star Wars fan (even the queue areas are an expertly designed part of the experience!), but as rides they were not as thrilling as roller coasters would have been.
Oga's Cantina
I'd booked a reservation for Oga's Cantina thinking it served food, but we found out in the queue it was only a bar. To add insult to injury, we had also forgotten to bring ID so were limited to soft drinks! The experience was also hampered slightly by the fact that instead of being seated at a table, we had to stand at a counter with 6 other people.
However, these things hardly mattered to me when there was so much else to enjoy here. The bar looked and sounded fantastic, complete with a robotic DJ pumping up the crowd, and my drink was no less cool for lacking alcohol. My 'Jabba Juice' appeared totally alien in the way it bubbled and smoked, and contained bursting blueberry-flavour boba balls. Steve and I assuaged our hunger by sharing a 'snack platter' that contained a variety of strange nibbles, from salty dried vegetables to sweet crisp meringue.
Photopass opportunities
We returned to Hollywood Studios on day 5 of our trip (coming soon to a blog post near you!) to take advantage of the early opening hours. In this visit we got some PhotoPass photos of both of us… including us meeting Chewbacca!
Elsewhere in Hollywood Studios
Tower of terror
Our favourite ride in Hollywood Studios was the retro, but still utterly brilliant, Tower of Terror. The first time we rode it I was terrified, but it turned out to be so much fun that we went on it again 3 times more over the course of our stay! I hate big outdoors 'drop' rides because I don't like heights, but Tower of Terror is unique in that it gives you that thrilling weightless sensation but inside a building (so you can enjoy the feeling without feeling frightened by the view!).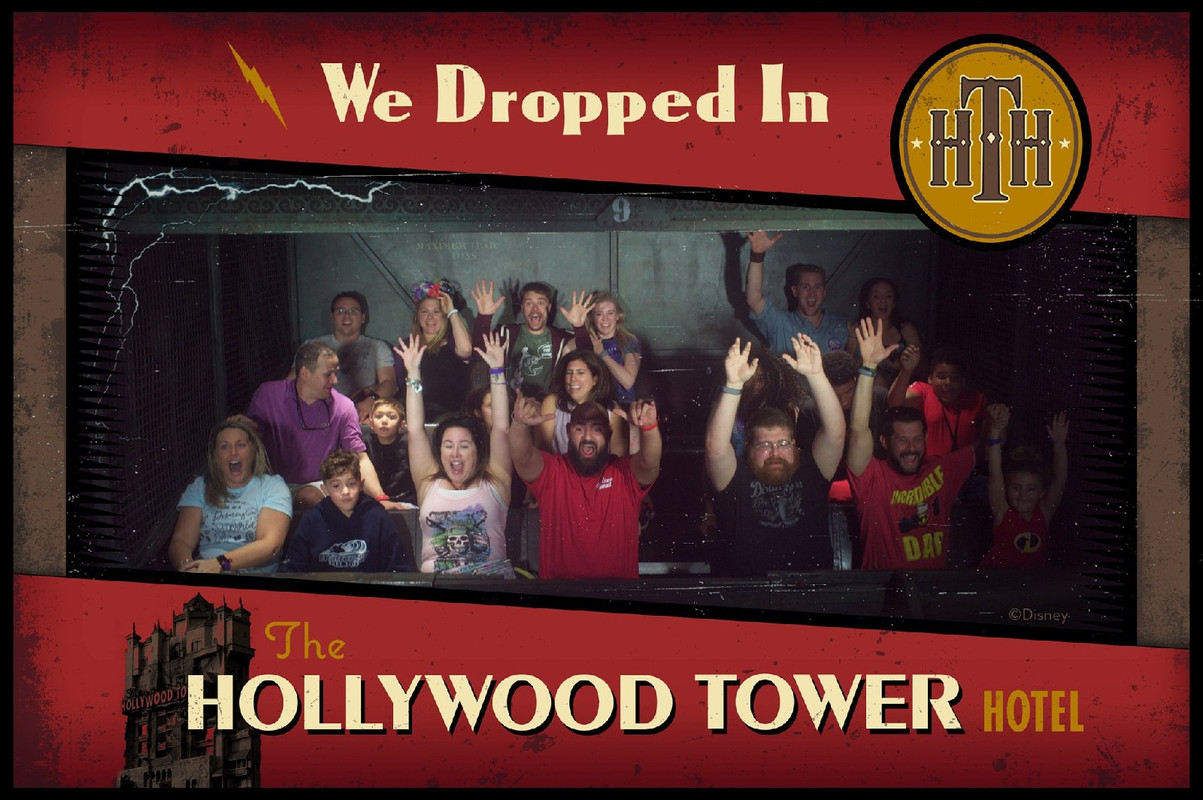 Other rides
Slinky Dog Dash is a child-friendly but still very fun roller coaster, though as one of the most popular rides (we couldn't get fast passes for it) we had to queue for a long time to ride it. I didn't enjoy the Aerosmith Rock n Roller Coaster as I found it uncomfortable due to all the G-Force (Steve liked it though). I also saw the Little Mermaid musical and the Indiana Jones show, which were enjoyable but not must-dos.
Fantasmic
Hollywood Studio's closing fireworks show, Fantasmic, lived up to its name. Unlike Happily Ever After at Magic Kingdom, Fantasmic takes place in a vast outdoor arena which means everyone can watch the show comfortably from a seat. The show included a live action scene from Pocahontas (that was my favourite part) and spectacular fireworks.
By the time Fantasmic ended we were really hungry. Hollywood Studios has fantastic themed restaurants – two of which we had booked for other nights and will be detailed in other posts – but tonight they closed as soon as Fantasmic ended. We had no choice but to get dinner at our hotel instead: a quick service meal from the Mara. I tried to order it in advance through the Disney World app, but it charged me twice without the order even going through (take this as a warning…don't use the app to order)! We had to ask to get it refunded manually at the tills. The meals were just fine, and fortunately the only Disney World dinner that we didn't plan. Tomorrow, Animal Kingdom beckoned…
View all posts about our Honeymoon.
To be notified of my next blog post, subscribe to this blog or Like and Follow Roam with Juliet on Facebook.
All text and photos (c) Juliet Langton, 2020. All rights reserved.