Staying at one of Universal's Premium hotels, such as the Hard Rock Hotel, gets you certain privileges. These include Fast Track to skip the queues for rides, and early park entry on certain mornings. Neither perk saved us from having to queue for the newest and best ride, Hagrid's Magical Creatures Motorbike Adventure, along with everyone else! Nevertheless, the extra time enabled us to complete the Islands of Adventure park in one day, with time to do some rides several times over.
First on the Hogwarts Express
We intended to use our early park entry privilege to get into 'Hogsmeade' (the Harry Potter area in Islands of Adventure) and onto Hagrid's Motorbike Adventure before everyone else. We didn't realise that only the Universal Studios park would open early… and that once inside Universal Studios, we wouldn't be allowed on the Hogwarts Express train to Hogsmeade any earlier than usual either.
So, after walking to Islands of Adventure and finding it still shut, and entering Universal Studios to find the Hogwarts Express shut, we decided simply to wait. We bought pastries and hot drinks from the San Francisco Pastry Company cafe just outside 'King's Cross station' and ate them while we waited for the station to open.
The staff member manning the King's Cross queue told us we'd be at the back of the queue for Hagrid's Motorbike Adventure, behind those who had queued outside Islands of Adventure that morning. But never mind. We were still the first people of the day to ride the Hogwarts Express between the parks, and that was pretty cool!
dISCOVERING Hogsmeade
When we arrived in Hogsmeade, the queue to go on Hagrid's Motorbike Adventure was absurdly long – it reached all the way into an entirely different area of the park. Going on our recent experience at Disneyworld, we knew the ride would be at its busiest now, and decided to wait until the crowds reduced later on.
Hogsmeade is beautifully designed. It has a fun photo point beside a replica of the Hogwarts Express, a street full of pointed roofs topped with 'snow', and an incredible replica of Hogwarts Castle looming above. It also has a stage that hosts various performances throughout the day: we caught both the Triwizard Tournament dances, and the funny 'Frog Choir' concert.
Besides Hagrid's Motorbike Adventure there are two other Harry Potter rides here. First we tried Harry Potter and the Forbidden Journey, a fun 4D coaster where you sit on a flying 'enchanted bench' and experience some surprising inversions. Next we rode Flight of the Hippogriff, an outdoor coaster that was quite slow and boring.
Jurassic park
From Hogsmeade, we worked our way around the park anti-clockwise. The Jurassic Park area is fun: filled with tropical plants, dinosaur statues, and an awesome flume ride. Jurassic Park: The Ride has a fun storyline, animatronic dinosaurs, and a really steep drop at the end that isn't too wet!
Toon Lagoon
In the Toon Lagoon area there's another flume ride: Dudley Do-Right's Ripsaw Falls. It's a really fun and surprising ride, with multiple drops, but unlike the Jurassic Park flume this one really soaks you! We were glad that the weather was warm enough to dry us off afterwards.
We didn't recognize many of the cartoons in Toon Lagoon, but we did have some fun with the various speech bubbles dotted around the area…
Marvel super hero island
Skull Island: Reign of Kong was another 4D bus ride like Fast and Furious in the Universal Studios park, but better. The Amazing Adventures of Spiderman 4D ride was pretty good: setting us up as journalists falling into the fray as we followed Spiderman.
I was terrified to ride Doctor Doom's Fearfall, a drop tower ride, but it was scary for a reason I didn't expect: rather than raising us slowly and dropping us fast, it shot us upward very fast (scaring me out of my skin!), and dropped us more slowly!
I also braved The Incredible Hulk Coaster, and while it wasn't too torturous I had no desire to ride it again. Steve, on the other hand, went on it around 9 times overall.
On our way through the Marvel Super Hero Island area we also spotted three X-Men characters, who I had to get a photo with!
seuss landing
Next up was the Seuss Landing area, where there were people walking around dressed like Dr. Seuss characters (with some freakishly realistic-looking prosthetics). We went on the bizarre Cat in the Hat boat ride just for the sake of trying it, then decided it was time for lunch.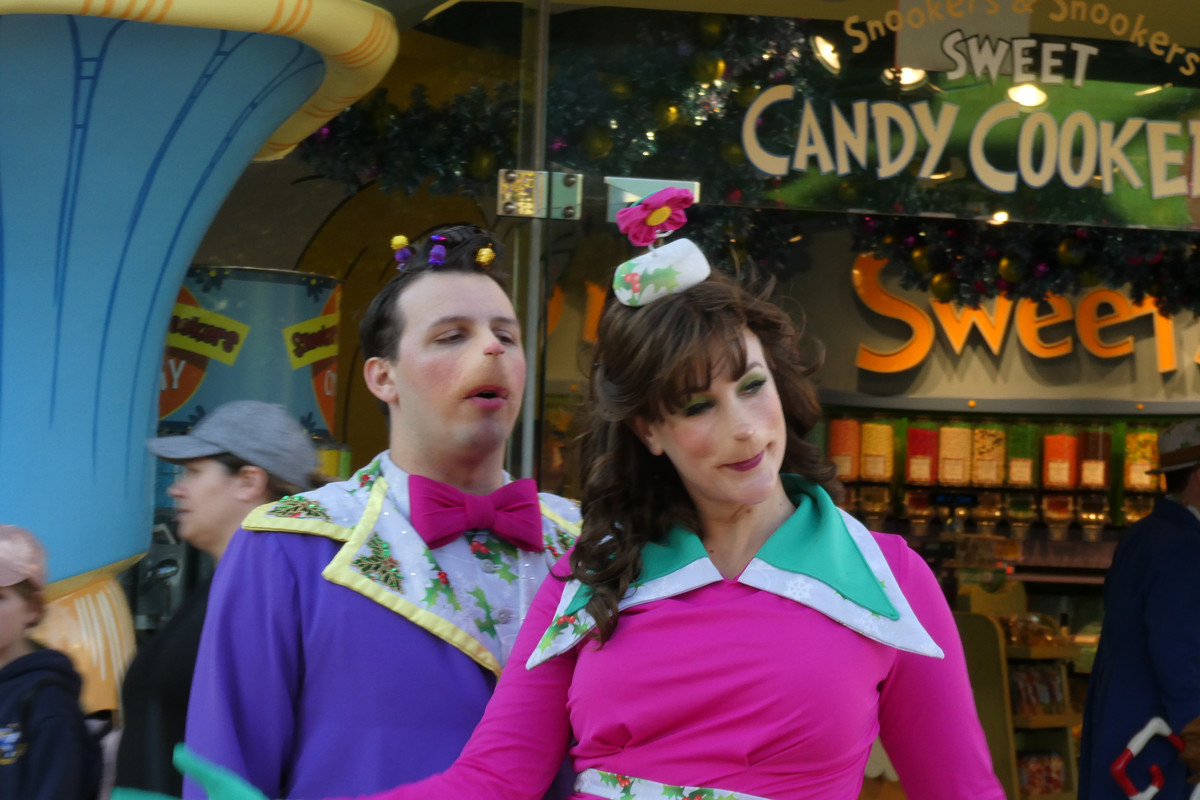 I was craving fried chicken, and the cafeteria-style restaurant 'Circus McGurkus Cafe Stoo-pendous' delivered. We shared an absolutely massive lunch of fried chicken, mashed potatoes, gravy and a corn cob (all of which were surprisingly good and similar to KFC), in addition to a caesar salad, a burger, and fries. For dessert we shared something called a 'brookie cake': described as 'a brownie cake filled with chocolate chip cookie'. Only in the USA!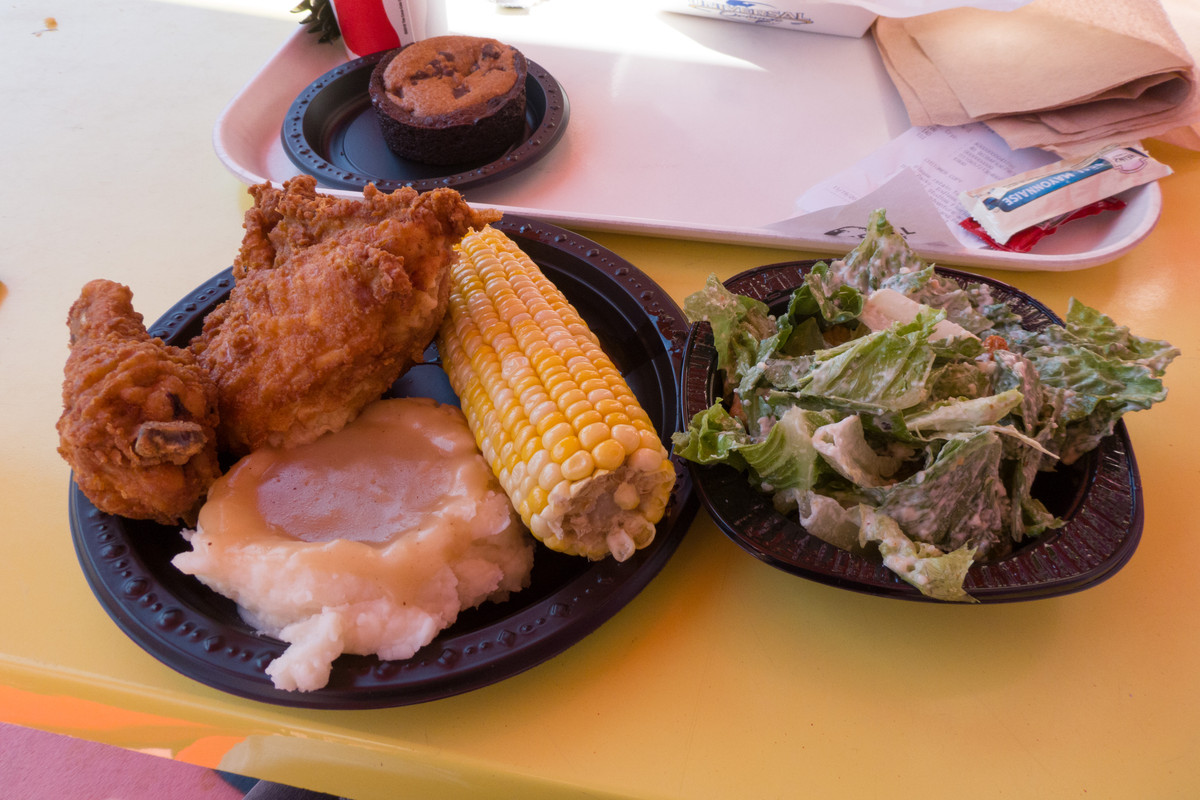 Hagrid's Motorbike Adventure (finally!)
We'd now circled the entire park, and queue times for the Hagrid's Motorbike Adventure ride had decreased to 70 minutes.  We decided to bite the bullet and join the queue. As it turned out, we were only queueing for around 50 minutes, and it was SO worth it! The queue area is very good too: plenty of areas and props to keep you entertained while you wait.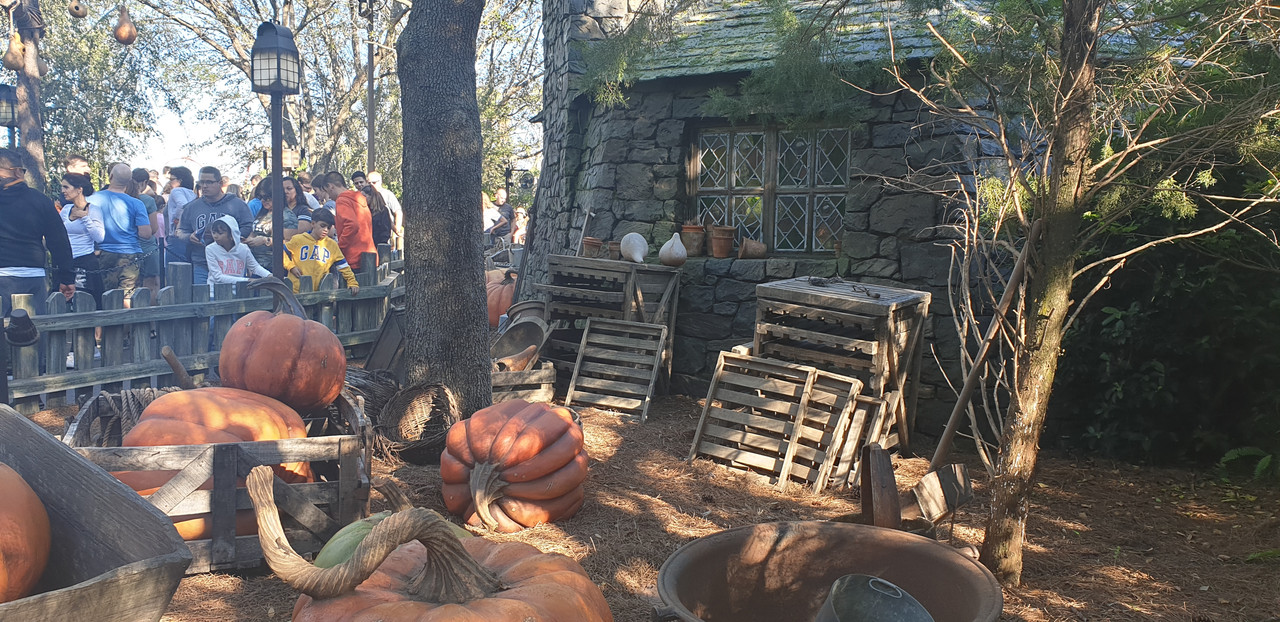 It's best to ride as a pair, so that one of you can choose the motorbike, and the other one the sidecar. On the motorbike, you're higher up and need to lean forwards to hold the handlebars, because there's very little support behind you. In the sidecar you're more supported, but there's nothing to hold onto. This makes the motorbike better for adults, and the sidecar safer for children (or for adults who don't like to hold onto anything, like my husband!)
We both loved the ride: it was surprising, super-fast, and really fun, without being too frightening. We loved it so much that we splashed out on a ride photo, which we hardly ever do!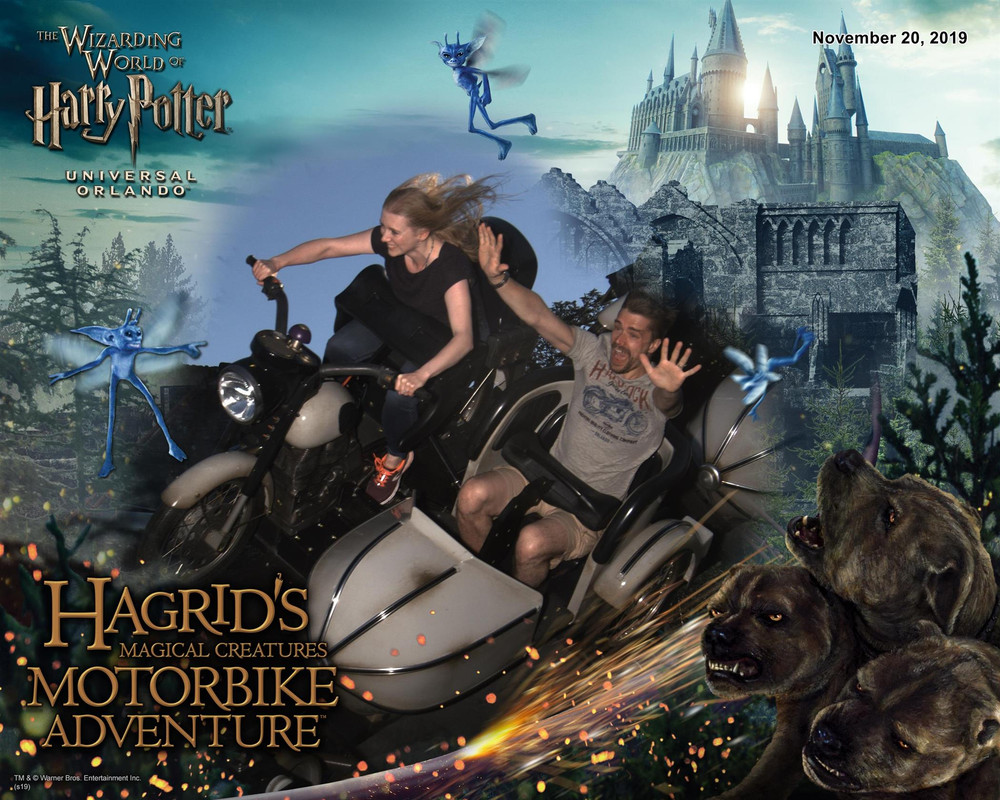 The Hogwarts light show
Once we'd circled the entire park, we went round again and re-rode some of our favourite rides. Just before closing time, we caught the night-time light show projected onto Hogwarts Castle. It was a beautiful spectacle, and almost up to the standard of Happily Ever After at Disneyworld's Magic Kingdom.
Dinner with Bob Marley
For what would be our final evening meal in Orlando, we decided to visit the Bob Marley – A Tribute to Freedom restaurant. The person on the door seated us and handed us menus right away, but we were then ignored for 30 minutes. Eventually, the manager noticed and apologized by way of offering us free drinks and a starter on the house: we chose a mojito, a beer and a cheesy dip with bread.
For our main courses, I had a jerk chicken sandwich and Steve had beef patties with pillowy-soft coco bread. Later on, a live reggae band arrived and provided the perfect soundtrack.
With this being our final night in Orlando, we decided to do some shopping before bed: Steve bought a replacement bag in a surf shop in the City Walk, and we both bought souvenirs in the Hard Rock Hotel's giftshop.
We'd gone on all the rides at Universal now, but we still had one day left. Up until now, I'd resisted – but on our final day, I gave into temptation and went full Harry Potter fangirl. All will be revealed in my next post!
View all posts about our Honeymoon.
To be notified of future posts, subscribe to this blog or Like and Follow Roam with Juliet on Facebook.
All text and photos (c) Juliet Langton, 2020. All rights reserved.